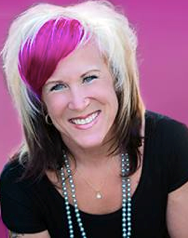 Warsaw, IN (PRWEB) January 10, 2014
Social media is the biggest platform for Internet marketing today, and small and large business owners are turning to it to convert their passions into profits. Sandi Krakowski, featured in Forbes magazine as a Top Social Media Influencer, has her own unique business plan when it comes to Internet marketing.
Why Faith Belongs in Your Workplace written by Krakowski, quickly jumped to the #1 most shared article when it was released in Entrepreneur Magazine this week. The article promptly received hundreds of comments, and created quite a buzz on Twitter with many retweets and responses.
Krakowski has been open about her faith for many years on her Facebook business page and other social media outlets, which has more recently been noted with her trending Be More hashtag (#BEMORE). I believe that faith works in the workplace. Taking the uncommon path to profits and changing people's lives simultaneously has been my business plan for many years. Faith works, states Krakowski from her recent article.
Many see her strong faith in business as an unconventional tactic, but her results are undeniable. We have quadrupled our company profits in the last year. This one thing I know — prayer changes things and faith belongs in business, shares Krakowski.
With the overwhelming response to this article on social media, Krakowski also wrote If You Have Faith, Youll Stop Arguing Why Its Important in the Marketplace in Entrepreneur Magazine as a response to her audience.
About Sandi Krakowski- a Digital Media Marketing Expert noted by Forbes as a Top 20 Women Social Media Influencer and a Top 50 Social Media Power Influencer. Sandi is known in the marketplace for living an outrageous life, giving to many causes, writing, cooking and enjoying her family while serving over 2 million clients. She has a historic track record of building an online social media presence with more than 600,000 clients connected to her in under 18 months. But the core of who Sandi is revealed in her powerful teaching on faith, belief and the power to #BEMORE in all areas of life. You can find her at: http://www.arealchange.com