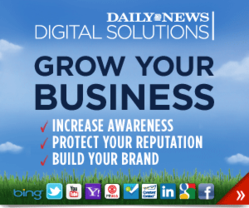 New York, NY (PRWEB) May 07, 2013
Daily News Digital Solutions (DNDS), in its continuous efforts to help local small and medium-sized businesses enhance their Internet marketing strategies and expand their online presence, will be partnering with two key small business events.
These events are a perfect match for Daily News Digital Solutions, notes Stephen McLaughlin, Director of Business Operations. Daily News has a longstanding relationship with the Queens Chamber and Digital Solutions is very proud to be an extension of that partnership. Our mission is to empower and inform, helping local small and medium-sized businesses maximize the power of Internet marketing to remain competitive and further increase their customer base in the ever-evolving digital market.
The Queens Business Expo, hosted by the Queens Chamber of Commerce, will be held on Wednesday, May 8. The expo is being held at Resorts World Casino in Queens and admission is free. Over 120 exhibitors and 1,200 attendees are expected to participate in this community outreach event for local business owners.
The event starts at 8 a.m. and Daily News Digital Solutions will sponsor the breakfast, which will feature keynote speakers Patrick Foye, Executive Director of the Port Authority of NY/NJ and Rob Maruster, COO, JetBlue Airways.
After breakfast, there will be an open floor trade show, allowing attendees to mingle and learn about various organizations and services tailored to the small businesses.
The Daily News will have its own presentation area, with guest speaker Michael Flaminio, Vice-President. Joining Michael will be Digital Consultants eager to engage directly with business owners.
Visit Queens Chamber of Commerce Events to register for The Queens Business Expo & Breakfast.
The Small Business Expo (SBE), a national business expo with events in Dallas, Boston, Los Angeles and Miami is set to be held in New York City at Pier 92 on Thursday, May 16, starting at 10 a.m.
The Expo has over 7,000 guests registered, including Presidents, Owners, CEOs, VPs, CFOs, CMOs, and COOs of some of the metro areas small and medium-sized businesses.
Daily News Digital Solutions is partnering for the first time with the expo. McLaughlin believes it presents a unique opportunity to interact face-to-face with local companies looking to grow their business and stay on the cutting edge of digital marketing. Digital Consultants will be available to discuss the latest Internet marketing tools and offer creative, forward-thinking solutions to optimize online lead generation and conversion.
Daily News Digital Solutions is also proud to sponsor the expos Internet Caf