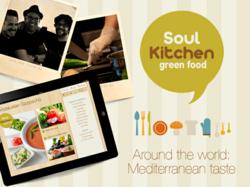 (PRWEB) December 20, 2012
DigitalStooges has just started its fundraising process on Kickstarter for its original and innovative proposal Soul Kitchen Green Food. This fundraiser shall finish on 01/15/2013.
What is Soul Kitchen Green Food?
This first edition is not pretending to be the typical cook book as we are used to. This will be the first multimedia eBook that will include more than 100 healthy Mediterranean inspired recipes with lots of well selected photographs and over 500 minutes of video footage, giving step by step detail to every recipe. Soul Kitchen will be available in 5 languages: English, German, Spanish, French and Chinese.
Which features can provide Soul Kichen Green Food?
Soul Kitchen provides some advantages in front of tradicional recipe eBooks and apps, as Interactive Images and Timelines, insert video and multimedia stuff. This way, we can exploit multimedia resources for showing our healthy recipes to everyone in high quality video as well as step by step, enhancing the cooking experience.
Exquisites Recipes
With more than one hundred recipes, Soul Kitchen will compile an individual touch of home cooking, prioritizing in variety and respect for a more sustainable and fresh product.

Every recipe will have indicatives that will show if they are vegetarian or lacto-ovo-vegetarian friendly, vegan, sugar-free or gluten-free. This way, dishes can be easily identified so people can include them in their menu according to their needs, preferences and habits. With Soul Kitchen you will be able to organize in a simple way delicious meals for you, your family and friends. And what's more important, you will enjoy every healthy benefits Mediterranean diet have to offer.
Our Chef, Andr