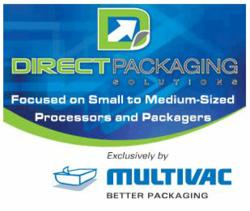 Kansas City, MO (PRWEB) March 07, 2013
In 2012, MULTIVAC, Inc. formally announced the launch of a new business unit, Direct Packaging Solutions, which is comprised of a team of packaging experts whose sole purpose is to serve the food, medical, pharmaceutical, and consumer goods industries with small to medium-sized packaging equipment.
Today, Direct Packaging Solutions announced the launch of its new website, dps-multivac.com, which features MULTIVAC packaging equipment, including vacuum chamber packaging machines, shrink tunnels and dip tanks, semi-automatic tray sealers, thermoformers and small package labelers. Visitors to the site will also find packaging supplies such as vacuum pouches and boil-in-bags for sous vide cooking.
MULTIVAC has been a provider of packaging solutions to some of the worlds largest and best-known manufacturers for over 50 years. By having a dedicated team of packaging specialists focused on smaller operations, backed by our extensive base of MULTIVAC packaging experts in engineering, parts, service and our renowned packaging research center, Direct Packaging Solutions supports our company philosophy of building solid relationships with all customers, regardless of their size, stated Jim Campbell, President and CEO of MULTIVAC, Inc.
Direct Packaging Solutions stocks affordable new, pre-owned and remanufactured certified packaging equipment in MULTIVAC, Inc.s Kansas City, Missouri facility, which results in express delivery from the Midwest.
MULTIVAC, Inc. is the leading manufacturer of thermoform fill-seal rollstock packaging solutions, robotic loading, chamber vacuum packaging machines, traysealers, shrink tanks, and both cross-web and inline labelers for food, medical and consumer product applications. From its North American headquarters, located in Kansas City, Missouri, the company provides strategic consultation, technical design, sales, distribution, and service of MULTIVACs complete line of packaging systems. MULTIVAC maintains a comprehensive, on-site parts inventory, and offers 24X7 technical assistance and certified training for its entire line of equipment. To date, the company has designed and implemented over 100,000 packaging solutions. You may visit http://www.multivac.com for more information.