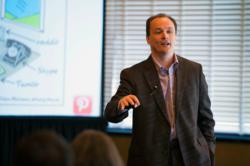 New Brunswick, NJ (PRWEB) April 24, 2013
Steve Cummins, Director of Digital Marketing and Communications for Dittman Incentive Marketing, shared the spotlight with speakers from Google and other leading digital marketing experts at the recent Business Marketing Association of New Jerseys B2B Marketing Summit.
The B2B Digital Marketing Summit focused on real-life case studies in digital marketing, and highlighted the use of mobile devices to increasingly engage target customers. In addition to Cummins, the Summit featured presentations from Googles Amanda Blake and Christina Stavridis, who showcased various successful video campaigns, and CK Kerley who spoke about the trends in mobile marketing, and the emergence of the Internet of Things.
Our summits are designed so attendees come away with actionable ideas to solve their own marketing challenges, said Lorraine Cregar, president of BMA-NJ.

This year we wanted to provide attendees with real-life examples of how B2B marketers can utilize Digital Media. Dittman Incentive Marketing gave a blueprint for implementing a Digital Strategy, which was reinforced by Googles demonstration of the power of video for marketers.
During his 45-minute presentation, Cummins outlined a 90-day action plan to launch a digital marketing program based on his real-life experiences at Dittman and Panasonic.
Establishing your companys first-ever digital marketing program can be a daunting job. Where do you start? What options do you choose? What resources do you have available? Cummins said prior to the event. The First 90 Days: How to Start a Digital Marketing Strategy shares my experiences, and gives recommendations to help other B2B marketers get started.
About Dittman Incentive Marketing:

For more than 35 years, Dittman Incentive Marketing has been an award-winning, quality leader in providing incentives, recognition, and rewards programs to help companies realize immediate ROI in motivating sales people, employees, channel partners, customers, and consumers. Dittmans signature products and services include: TotalPRO