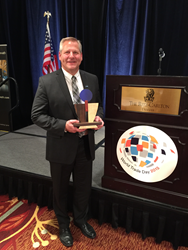 (PRWEB) May 21, 2015
As part of World Trade Day 2015, Diversified Machine Systems (DMS), Colorado Springs manufacturer of DMS CNC Routers and Large Format Machining Centers, was announced as a winner of the 45th Annual Governor's Excellence in Exporting Award by the Office of Economic Development and International Trade (OEDIT).
As a prestigious award given annually to Colorado-based companies since 1970, the Governor's Excellence in Exporting Award represents an ongoing increase or sustainability in export sales for the winning companies. As a multi-billion dollar industry, exporting bring $ 15.4 billion into Colorado alone, and the award recognizes companies who have played a role in this economic growth through international trade.
The award was presented at the 42nd annual World Trade Day, a conference centralized around international trade as well as international business opportunities. This full-day event allowed for attendees to gain insightful information through keynote speakers, breakout sessions and networking opportunities. This year, the focus of the conference was on advanced industries such as Bioscience, Electronics, Manufacturing, Aerospace, Information Technology, Engineering/Infrastructure and Clean Tech/Energy.
With approximately 20% of DMS' business coming from international trade in 14 countries outside of the U.S., DMS is honored to be able to represent the state in such an important and economic way.
"We're honored to receive this award here at DMS and will use this opportunity to continue our efforts in promoting the Colorado's Advanced Industries products and programs, as well as Southern Colorado's manufacturing capabilities in the international markets," says DMS Vice President and CSO, Ed Hilligrass.
Learn more about Diversified Machine Systems at http://www.DMSCNCRouters.com.
About Diversified Machine Systems
Diversified Machine Systems (DMS) is a leading designer and manufacturer of 3 Axis CNC Routers, 5 Axis CNC Machine Centers, and Large Format Machine Centers headquartered in Colorado Springs, CO. With more than 30 years of innovation and industry experience as an Original Equipment Manufacturer (OEM), DMS line of CNC routers and machining centers are routinely used on materials such as wood, composites, aluminum, plastics and foams. Renowned for quality and precision, DMS advanced machining centers are engineered to increase efficiency and productivity, while maintaining the quality and precision leading manufacturers have come to expect.
DMS was named a 2014 Colorado Company to Watch, a 2015 Made in Colorado Award Winner, ranked #101 of the 2014 Top 250 Private Companies in Colorado, chosen as a 2015 ACG Denver Growth Awards Nominee, and awarded the 2013 Regional Business Alliance Excellence in Manufacturing Award.
Be sure to connect with us socially for the most current news:
Twitter.com/DMSCNCRouters
YouTube.com/DMSCNCRouters
Instagram.com/DMSCNCRouters
Facebook.com/DMSCNCRoutersandMachineCenters
Plus.Google.com/+DMSCNCRoutersandMachineCenters