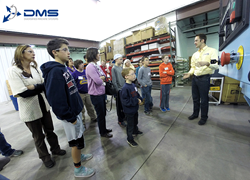 Colorado Springs, CO (PRWEB) December 18, 2014
On Friday, December 12th, Colorado Springs-based Diversified Machine Systems (DMS), Original Equipment Manufacturer (OEM) of 3 and 5 Axis CNC Routers and Large Format Machining Centers, hosted over 50 H.O.M.E. students, parents and chaperones for a visit to the DMS World Headquarters as part of their educational tours initiative.
Greg Halleck, a member of H.O.M.E. (Helping Our Members Educate), a local homeschool group that gives students the opportunity to learn and experience new elements of education, reached out to DMS after visiting their booth at the Southern Colorado Manufacturing (SOCOM) Expo in September.
The groups activities range from fun outings, such as rolling skating and air soft competitions, to informative day trips to visit area companies or educational fairs. One of their recent field trips included a visit to Celestial Seasonings in Boulder, CO. Halleck reached out to DMS because they had never participated in any tours that showcased advanced manufacturing and the opportunities that it provides.
Sales Coordinator, Kristi Hilligrass led students on an office tour that included a series of educational videos in the DMS Training Center. For the main portion of the tour, Mechanical Engineer, Clay Guillory guided students around the DMS manufacturing shop floor to show them how machines are manufactured and assembled on site.
DMS CEO, Patrick Bollar gave live CNC router demonstrations, using a Freedom Machine Tool Patriot 4'x8′ CNC Router with a Lathe, to produce domino sets that will be given out as Christmas gifts.
As home-schooling parents of H.O.M.E., its important to us that our future scientists and engineers are exposed to real world cutting-edge companies," explains H.O.M.E. member and parent, Greg Halleck. DMS is certainly one of those companies. Kristi and Clay gave us an excellent tour. The kids imaginations were sparked seeing the impressive [machines] being assembled and tested. DMS gave our students a great glimpse into the companies of tomorrow, where they may be a future employee. Our parents and students are excited when talking about this unique experience, and many have made comments about their children thinking outside the box on how their current interests could blossom into a career choice like woodworking, machining, engineering, technicianthe list goes on! Thanks DMSfrom all our H.O.M.E. parents and children!
Community outreach and workforce awareness are important initiatives for DMS, which makes educational tours available by appointment. DMS has been honored this year as a 2014 Colorado Company to Watch and ranked #101 in the Top 250 Private Companies in Colorado.
Learn more about Diversified Machine Systems at http://www.DMSCNCRouters.com.
ABOUT DIVERSIFIED MACHINE SYSTEMS

Diversified Machine Systems (DMS) is a leading designer and manufacturer of 3 Axis CNC Routers, 5 Axis CNC Machine Centers, and Large Format Machine Centers headquartered in Colorado Springs, CO. With more than 30 years of innovation and industry experience as an Original Equipment Manufacturer (OEM), DMS' CNC router line and machining centers are routinely used on materials such as wood, composites, aluminum, steel, plastics, and foams. Renowned for quality and precision, DMS advanced machining centers are engineered to increase efficiency and productivity, while maintaining the quality and precision leading manufacturers have come to expect.
Be sure to connect with us socially for the most current news:
Twitter.com/DMSCNCRouters

YouTube.com/DMSCNCRouters

Instagram.com/DMSCNCRouters

Facebook.com/DMSCNCRoutersandMachineCenters

Plus.Google.com/+DMSCNCRoutersandMachineCenters