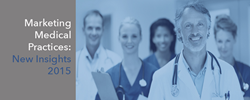 Westport, CT (PRWEB) January 27, 2015
The online behavior of consumers seeking health information continues to evolve. Medical practices are getting smarter about how they acquire new patients. Theyre getting in front of prospective patients while theyre surfing the web to research a condition, treatment, clinic or doctor. This is where the real business of medical marketing is gaining traction.
In a Pew Research Centers Internet & American Life Project, the study estimated that 72% of U.S. adults looked for health information on the internet within the past year. The most popular topics searched were diseases/medical conditions, treatments/procedures, and doctors/healthcare providers.
The internet has become a diagnostic tool. According to Pew, 77% of those online health seekers say they began their last session at a search engine such as Google, Bing, or Yahoo. And, the rise of health information in social life is growing. Remarkably, people are willing to share their private health information and experiences with medical providers on not only the many physician review sites, but also on the medical practices blog and social media properties. This peer-to-peer healthcare information sharing is documented in the Pew Research showing that 30% of interest users have consulted online reviews or rankings of health care services or read or watched someone elses experience about health or medical issues in the last 12 months.
As medical practices vie for larger shares of patient populations in their geographic areas, more practices are applying web marketing strategies previously used only by larger corporations. Just as the rest of businesses are committing larger percentages of their marketing dollars into online avenues, so too are medical practices. Print (newspapers/magazines), billboard and radio station ad buys are often weighed against performance of online campaigns and the online campaigns are winning out. A concept called inbound patient marketing is growing as is evidenced by inbound marketing automation platform provider Hubspot. The company was founded in 2006 by Brian Halligan and Dharmesh Shah and is based in Cambridge, MA with over 675 employees worldwide. Medical practices are able to more readily attract, engage and even delight prospective patients by delivering the right information at the right time while researching health information online. Too often a practice cobbles together multiple software services that dont play well together website analytics, email marketing, website content management etc. This platform combines web hosting, blog capabilities, social media management, search engine optimization, email marketing and other business processes all into a usable platform that businesses can use effectively. This or similar marketing automation platforms are giving medical practices the edge over their competition and providing patient engagement with a medical offices website and/or blog, that results in larger number of patient consults. And the marketing behemoth of them all Google, has a product portfolio of ad serving platforms that provides medical practices an opportunity to market to prospective patients (not just Google text adWords, but banner display and video ads).
To connect with small-to-medium sized businesses, Google offers a free webinar through their certified Google Partners that explore ways to acquire patients and differentiate ones practice from the competition. Todd Rowe, a Managing Director at Google will discuss how to leverage technology so medical practices can thrive. Frederick (Fred) Vallaeys, another workshop presenter, was one of the first 500 employees at Google where he spent 10 years building AdWords and teaching advertisers including medical practices how to get the most out of it as Googles AdWords Evangelist. The third presenter is Greg Zola, digital strategist at CarbonFoot Medical who has managed successful patient referral lead generation campaigns and will discuss reputation management online for doctors, social media dos and dont for medical practices and the insights behind medical SEO (search engine optimization).
CarbonFoot Medical LLC is a Connecticut based Google Partner hosting the event live for local New York and Connecticut medical practices.
The event will be held February 11th, 2:00 PM EST at CarbonFoot Medical's office – 8 Wright St., 1st Floor, Westport, CT. Others can attend by registering for the webinar. Space is limited.
About CarbonFoot Medical LLC
Founded in 2007, CarbonFoot Medical assists medical practices and healthcare organizations to increase patient referrals primarily from online channels. Medical marketing programs offered include a full suite of digital advertising channels. Physician and healthcare organization marketing dollars work harder to acquire new patients with implementation of medical search engine marketing, digital strategy tailored to target patient populations and geographies, paid search advertising programs (PPC), medical SEO, social media, email marketing, doctor/practice reputation management, video production, medical blogging, display advertising and Google, Bing & Yahoo paid search marketing. CarbonFoot Medical tailors digital marketing services to fit the unique needs of medical specialties or healthcare organizations with a level of expertise not found from generic, out-of-the-box agency solutions.