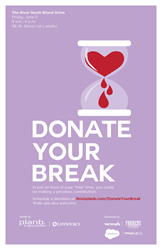 Chicago, IL (PRWEB) May 27, 2015
On June 5, Plan B [the agency alternative], a River North-based advertising agency, will partner with LifeSource to host Donate Your Break, a public blood drive. This community-focused event will take place in a LifeSource donor coach outside of 116 W. Illinois (at LaSalle) from 9:00 a.m. to 4:00 p.m.
Demand for whole blood units is highest for LifeSource, the largest blood center in Illinois, during the summer months. LifeSource requires approximately 1,000 donations per day to maintain an adequate supply of blood in local Chicago hospitals.
There is no substitute or alternative for blood, those in need require willing donors to provide a plan B. Fortunately, thats what we do best, says Tom Millman, Creative Director on Plan Bs healthcare accounts. Donate Your Break is our rallying cry to River North professionalsjust down the block from your favorite coffee shop, restaurant or happy hour hotspot is the opportunity to make your summer Friday more meaningful.
The actual donation is quick, easy and painless for donors of all blood types and lasts only 10-12 minutes. However, individuals who wish to donate are encouraged to block off an hour for the entire process, which includes a mini-wellness check and post-donation snacks. In accordance with the Illinois Blood Donation Leave Act, with approval from their employers, employees are entitled to one hour of paid leave for blood donation every 56 days.
Interested donors are encouraged to schedule their donation at thisisplanb.com/DonateYourBreak and eat a healthy meal prior to donating. Walk-ins are also welcome.
WeWork, Farmer's Fridge, SalesForce, Dreamworks Graphic Communications, and Classic Color have all signed on as sponsors for this inaugural community event.
About Plan B [the agency alternative]

Chicago-based creative advertising firm Plan B [the agency alternative] is a full-service, on-demand marketing partneroffering forward-thinking marketing managers a fully transparent, collaborative partnership that blurs the line between corporate brand managers and their own specialized post-digital-age marketing experts, driving efficiency and shortening time to market. Plan B designs, develops and delivers innovative, strategic campaigns across all media platforms with a unique 4D approach that effectively integrates traditional, digital, mobile, and social media marketing solutions in real time. Learn more at ThisIsPlanB.com.