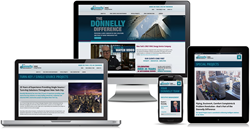 New York, NY (PRWEB)
June 23, 2015
Donnelly Mechanical, New York Citys only integrated HVAC and energy service experts, is pleased to announce the launch of its newly redesigned corporate website at http://www.donnellymech.com. The fully responsive, mobile-friendly website can now be conveniently accessed from a smartphone, tablet, phablet, laptop, or desktop computer. Redesigned specifically to improve the website experience for existing and prospective clients, it features easier navigation, updated content, and an exciting new look and feel.
We are conscientious about staying ahead of the needs of our clients and future prospects, said Daniel T. Donnelly, CEO of Donnelly Mechanical. The website was redesigned to make sure we deliver the same high quality experience and information that is the hallmark of our company. We spent a significant amount of time learning about the interests and behaviors of the people we serve so that we could tailor the experience to their unique needs. Were very proud of the results.
Over the years, Donnelly Mechanical has emerged as New York Citys premier provider of HVAC service, maintenance, and construction, as well as energy solutions. With more than 1,700 companies who value Donnellys direct owner access at every level, Donnelly is recognized by its distinguished list of clientele for its customized maintenance and service agreements. Tailored to a clients unique needs, Donnellys maintenance and service agreements are specifically designed to ensure peak operating efficiency, minimize equipment downtime, and eliminate the need for repeat visits. The new website is an extension of Donnellys commitment to building long-lasting relationships by providing clients with exactly what they need and expect.
Donnelly Mechanical can be contacted through their website, where information can be found about the company and its wide range of specialized services including HVAC Service and Maintenance, Special Projects, and HVAC Construction services. Visitors can also watch the newly added testimonial video featuring comments from clients and CEO Dan Donnelly.
The new website, available at http://www.donnellymech.com/, will be updated on a regular basis to provide relevant industry and service information.
About Donnelly Mechanical Corporation
Donnelly Mechanical Corporation is New York Citys premier HVAC contractor, exclusively serving commercial clients. Founded in 1989, the firm is a leading integrated HVAC and energy company in the metropolitan area, offering clients a full range services aiming to maximize energy efficiency and cost savings. Equipped with extensive knowledge regarding the industrys leading sustainability technology and incentive programs, Donnelly Mechanical provides energy consulting, energy auditing and equipment replacement services. The firms expert team includes senior-level staff with LEED-accreditation from the U.S. Green Building Council. For more information please visit http://www.donnellymech.com or call (718) 886-1500.
About Daniel T. Donnelly
Daniel T. Donnelly (https://www.linkedin.com/in/dantdonnelly) founded Donnelly Mechanical in 1989 and Donnelly Sustainable Energy Services (SES) in 2009. As Chief Executive Officer, Mr. Donnelly leads the strategic vision of the company. Mr. Donnelly has over 38 years of industry experience and holds significant expertise in all facets of the HVAC and energy business, including estimating, budgeting, engineering, design build, turn-key construction, trade management, LEED BIM projects, energy consulting, and HVAC energy technical surveys/audits. His career is decorated by numerous major projects, including Carnegie Hall, New York Stock Exchange, Forbes, NFL, Major League Baseball, Bank of America, JP Morgan, Colgate, Morgan Stanley, Yahoo, New York Public Libraries and Disney/ABC. Mr. Donnelly has a degree from City College of New York and holds licenses and certifications in the following areas: Refrigeration Engineer License NYC #5795; LEED AP O&M; Certified Demand Site Professional #1301; Certified Energy Manager #14988; Certified Indoor Environmental Consultant # 1209007; Air System Cleaning Specialist #6990870; and US Army Cold War Certificate.