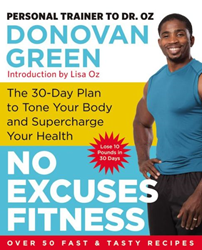 NEW YORK, NY (PRWEB) April 13, 2015
Donovan Green, motivational speaker and celebrity fitness trainer releases his new book No Excuses Fitness: The 30-Day Plan to Tone Your Body and Supercharge Your Health. The debut book is a guide to self-improvement and fulfillment at any stage of life. The book shares his real-life examples, his own and those of others, to demonstrate his motivation to his readers. This is the ultimate book to have in 2015 in order to look and feel your best.
Donovan Green is one of the countrys leading health and fitness experts and has been featured in top tier media including national TV and radio. His personal and professional interest in optimizing health through strategic training and nutrition has led him to work with clients from Hollywood to Capitol Hill. His A-list clientele includes celebrities, politicians to physicians and top experts in the industry including Dr. Mehmet Oz.
Donovan Green is the founder of Project Slimdown and is the go-to trainer for an array of clients. His mission is to motivate and inspire people to be able to get in the best possible shape of their life at any stage of their life. He creates customized programs for his clients regarding fitness and diet specifically tailored around the individuals needs for results, health and lifestyle. For more information on Donovan Green, visit http://www.projectslimdown.com follow him on Twitter @DonovanGreen or visit his Facebook Fanpage at http://www.facebook.com/projectslimdown.
Donovan Greens No Excuses Fitness: The 30-Day Plan to Tone Your Body and

Supercharge Your Health will be available on April 14, 2015 at retailers and online. For more information, visit http://noexcusesfitnessbook.com.
ABOUT DONOVAN GREEN

Donovan Green is a celebrity fitness trainer, founder of Project Slimdown, TV personality and author of No Excuses Fitness. Project Slimdown delivers first-class video workout programs, personalized nutrition and fitness plans to ensure every client is able to reach their fitness goals. Donovan Green is a sought after expert in health and fitness and has captured the attention of national media and a celebrity clientele. For more information, visit http://www.projectslimdown.com and Facebook via facebook.com/projectslimdown and Twitter via twitter.com/DonovanGreen.
Contact: Tamara York

Tamara York Public Relations

tamara(at)tamarayorkpr(dot)com
# # #