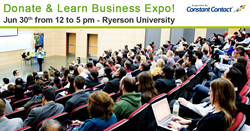 Toronto, ON (PRWEB)
June 24, 2015
Join 400 of Torontos top entrepreneurs, business owners and marketing professionals to learn cutting-edge search engine, branding and marketing strategies for business at the Toronto Donate & Learn Business Expo June 30 at 12pm.
The Donate & Learn Expo Agenda is packed to the brim with educational workshops, networking opportunities, and raffle prizes! Whether just getting started with social media, planning an online marketing strategy, or deep into business branding, the Donate & Learn Expo will provide the knowledge, strategies and networking opportunities needed to improve results.
Dont just hear about the latest techniques, learn how to master them from leading industry experts who have donated their time to help take your business to the next level! Donate & Learn Expo Keynote Speakers include presentations from SMB experts at Microsoft, American Express, Constant Contact and Green Lotus.
Event Details:

Date: June 30, 2015 at 12 5pm

Location: Ryerson University – Ted Rogers Building, 55 Dundas Street West, Toronto

Cost: FREE (donations accepted)

Register Now: http://greenlotus.ca/expo
Support a great cause while learning how to boost your business! 100% of donations go to the Enactus Ryerson Project Growing North, developing affordable and sustainable food sources for northern communities, so no one goes hungry.
About Donate & Learn Events:

Created by Bassem Ghali at Green Lotus, the Donate & Learn initiative strives to provide high-quality educational events while also supporting great local charities by replacing attendance fees with donations. Past Donate & Learn events have gained the support of close to 2000 Torontonians, and raised more than $ 20,000 for local charities including the YWCA Toronto, Enactus-Ryerson and Big Brothers Big Sisters of Toronto.
There has never been a better way to learn!