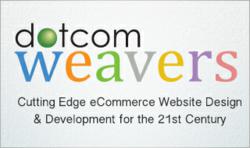 Paramus, New Jersey (PRWEB) January 18, 2013
With the latest round of improvements to SavvyBestTreats.com, Dotcomweavers, a leading New Jersey web design company, continues to work with small business owners in the tri-state area, helping them overcome technological barriers that limit their success online. The website for SavvyBeast Treats LLC, a New York based dog nutrition company, now features a wide variety of improvements designed to help customers make better informed purchasing decisions while also equipping the business owner to better meet customer demand.
With a focus on advancing usability, Dotcomweavers upgraded the SavvyBeast Treats website by making it easier for customers to find the products that they are searching and further educating them about special deals that are currently available. By improving the stability and ease of use of the website, the web designers strived to increase the conversions of websites visitors into sales. In addition, by adding calls to action targeted towards the consumer on the front page in the form of a "Buy Now" button and prominent placement of current sales, Dotcomweavers helped push for more sales by removing unnecessary steps from the purchase process.
The integration of online security and safety for the consumer was another core element of the updates implemented on the website. One area of concern was improving the checkout process to make customers more comfortable using their credit cards when paying for products. Additionally, the checkout process was streamlined by Dotcomweavers, so now each step of the transaction is numbered so that customers have a better idea of how long the process will be overall. Lastly, customers on the SavvyBeast Treats website now also have a page to leave comments and testimonials so that other customers can better gauge the experiences of others.
Behind the scenes, Dotcomweavers added the capability to have promotional specials such as "Buy 2 bags and get the 3rd at 30% off" where the discount is automatically handled, and updated, by the checkout software. Also, SavvyBeast Treats owner now has better control over measuring what customers are coming to the store for, what they are reading while there and now have the ability to offer products and sales better tailored to the customer. To view the improvements that Dotcomweavers have provided for SavvyBeast Treats, please visit – http://www.savvybeasttreats.com
About SavvyBeast Treats

SavvyBeast Treats only uses high quality ingredients in their dog treats which provides extremely high nutritional value in the final product. The treats produced in three flavors from organic ingredients that are 100% gluten free and wheat free using chia flour and real meat, SavvyBeast Treats are extremely popular with dogs and their owners.
About Dotcomweavers

Dotcomweavers Inc. is a Paramus, New Jersey-based web development company that focuses on advancements in Internet technology to provide attentive service and solutions for cutting-edge businesses in New Jersey and New York: web development, website design, e-commerce and internet marketing (SEO). Visit http://www.dotcomweavers.com or call (888) 315-6518 for more information about New Jersey website design and web development services provided by Dotcomweavers.