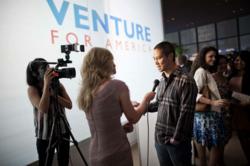 Las Vegas, NV (PRWEB) December 04, 2012
Downtown Project and Venture for America today announced that Tony Hsieh and Downtown Project pledged $ 1 Million to Venture for America starting in 2013. During the next five years, Venture for America will send at least 100 of the countrys most talented and enterprising graduates to downtown Las Vegas to assist Tony Hsieh and Downtown Project in helping revitalize downtown Vegas.
Were thrilled to be able to support Tony Hsiehs work and vision, said Andrew Yang, Founder and President of Venture for America. Our Fellows here in Las Vegas are able to get invaluable experience helping build businesses and create jobs.
Downtown Project, announced last year, is a $ 350 million initiative to help reinvigorate and develop downtown Las Vegas into a thriving employment center and community. The budget includes $ 200 million for real estate development, $ 50 million for tech start-ups, $ 50 million for local businesses, and $ 50 million for education, music, and arts. Zappos.com is planning to relocate its 1,200+ Henderson employees to the old Las Vegas City Hall building in 2013.
Venture for America is a natural partner for us, said Tony Hsieh. Their Fellows are already a valuable part of the community and were excited to put more to work. Tony noted that he appreciated Venture for Americas emphasis on job creation. Were going to help create hundreds of new businesses and thousands of jobs here in downtown Las Vegas over the next five years.
Venture for America Fellows are recent college graduates aspiring to be entrepreneurs who are chosen through a rigorous, multi-stage application and selection process. Hundreds of applications are received annually from students across the country.