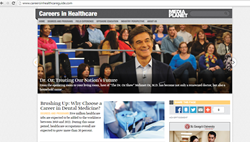 New York, NY (PRWEB) December 19, 2014
This campaign seeks to inspire readers to look closely at the industry and see within it the amazing amount of career opportunity there is for all men and women. As our nation faces a shortage of healthcare professionals, we need to support more students interested in a career in medicine and ensure they are educated on the evolving healthcare system.
The print component of Careers in Healthcare is distributed within this weekends edition of USA Today in Washington DC, New York, Cincinnati, South Florida, Chicago, Houston and Los Angeles with a circulation of approximately 450,000 copies and an estimated readership of 1.3 million. The digital component is distributed nationally through a vast social media strategy and across a network of top news sites and partner outlets. To explore the digital version of the campaign, click here.
Mehmet Oz, M.D., cardiothoracic surgeon, author and host of the Dr. Oz Show graces the cover of the print publication. Through an exclusive interview on the interior, he shares with readers the importance of the everyday healthcare professional. He states, Unlike any other job, the cost of a mistake is that a person will suffer or die. I always say that surgery is controlled arrogance you have to be in a specific zone to look at a beating heart and then stop it, repair it and restart it. Thats a high wire act without a net.
This campaign was made possible with the support of Mehmet Oz, M.D., the American Association of Colleges of Nursing (AACN), Association Of American Medical Colleges (AAMC), American Association of Colleges of Osteopathic Medicine (AACOM), American Nurses Association (ANA), American Dental Education Association, DeVry International, Lincoln Educational Services, Briarcliffe College, St. Georges University, and many more.
About Mediaplanet
Mediaplanet is the leading independent publisher of content-marketing campaigns covering a variety of topics and industries. We turn consumer interest into action by providing readers with motivational editorial, pairing it with relevant advertisers, and distributing it within top newspapers and online platforms around the world.
Press Contact:

Chad Bernstein

chad(dot)bernstein(at)mediaplanet(dot)com

646-755-7950