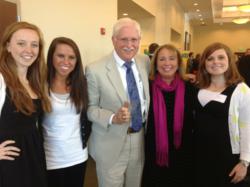 Birmingham, Alabama (PRWEB) March 27, 2013
Dr. James L. Sanderson, dental implants practitioner and owner of SanDentistry, has recently been recognized as a member of the UAB Excellence in Business Top 25 inaugural 2013 class. Dr. Sanderson was presented the award at a special luncheon on March 8 at the UAB National Alumni Society House.
The UAB Excellence in Business Top 25 award program identified, recognized and celebrated the success of the top UAB alumni-owned or UAB alumni-operated businesses. To be eligible, companies must have been in business for a minimum of three years and must be owned, operated, or managed by a UAB graduate.
"I feel very blessed, humbled, and honored to be a part of such a select group of people," said Dr. Sanderson. "My education at UAB laid a firm foundation for me to begin my practice and I will be forever thankful." Dr. Sanderson and fellow alumni that received the award are inspirational to current UAB students who would like to further their education and career.
Dr. Sanderson was awarded a degree from the UAB School of Dentistry in 1984 and has been practicing dentistry for approximately 30 years. Because of his commitment to continuing education and passion for dentistry, he now offers a wide range of dental services including diagnostic, laser, preventive, and reconstructive dentistry.
Congratulations to Dr. Sanderson!
About SanDentistry
SanDentistry utilizes advanced technologies for cosmetic, laser, diagnostic, preventative and reconstructive dentistry. In addition to general exams, SanDentistry offers numerous treatments and procedures to patients in the form of veneers, laser tooth whitening, bridges, dentures, white restorations, and crowns among others. The practice strives to make patients as comfortable and relaxed as possible while restoring beautiful smiles. For more information about the practice visit http://www.SanDentistry.com or call (205) 623-5622.