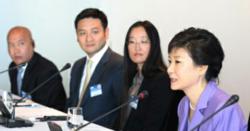 New York, NY (PRWEB) May 15, 2013
South Korean President, Park Geun-hye recognized DramaFever as one of the leading entrepreneurial ventures standing at the intersection of technology and culture, representing the kind of industry she hopes to promote in Korea. The Leaders Meeting for Creative Economy, held in Los Angeles on May 9, brought the South Korean government and entrepreneurs together to discuss the new administrations objectives. President Park emphasized her goal to foster a creative economy in Korea by creating new opportunities for domestic start-ups and forming global networks that will contribute to Koreas burgeoning importance as an economic power on the world stage.
DramaFevers co-founder, Suk Park was among the select group of entrepreneurs representing innovation and success around the world.
It was an honor to be amongst the most respected members of the Korean and Korean-American community from the US to make recommendations to President Park and her newly established Creative Economy team, said Mr. Park. Weve always believed that through the distribution of Korean content we are increasing Koreas country brand and promoting its culture and global initiatives. We are proud to have been part of this event.
A prime example of Hallyu and the popularity of Korean culture around the world, DramaFever.com is the top website in the Americas for streaming Korean dramas, in addition to content from the rest of Asia and Latin America. Dramas have found a whole new audience abroad, with fans no less passionate those in Korea. A diverse group of viewers, 85% of whom are of non-Asian descent, these international fans have discovered Korean dramas in large part thanks to increased availability of dramas and their vibrant fan communities online.
The company is rapidly expanding to meet the demands of a diverse and growing audience with four million unique visitors choosing from 14,000 hours of dramas, variety shows, movies, and documentaries, to stream over 330 million minutes every month. Dramafever.coms growing library features content from Korea, Japan, China, Spain, Chile, and Argentina available across PC and mobile devices.
Media Contact: Martina Lee / mlee(at)dramafever(dot)com / +1 646 801 0533
ABOUT DRAMAFEVER
Established in 2009, New York-based DramaFever is the leading online TV network for primetime shows from around the world. The service streams to millions over DramaFever.com, mobile and web TV apps (Android, iOS, Google TV, Roku) and also provides a curated selection of shows to Hulu, Netflix, and iTunes. All shows are professionally translated into English and Spanish, and are available for free in high quality at http://www.DramaFever.com.