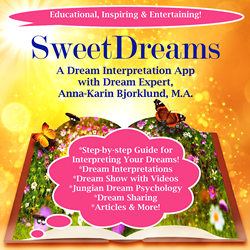 Newport Beach, CA (PRWEB) March 22, 2014
Dream Expert Anna-Karin Bjorklund, M.A., announced today the release of a uniquely personalized, fun and powerful Jungian inspired Dream Interpretation App, with the launch of SweetDreams, now available on the App Store and Google Play. Watch the Official App Trailer here!
SweetDreams beautifully recognizes that dreams are highly complex and filled with multi-dimensional interpretation possibilities. Rather than just providing a standard a-z dream dictionary that is so often found in other apps, SweetDreams helps empower dreamers with their own tool kit to decode dream messages, by encouraging users to reflect upon how they are feeling in a dream, and suggesting questions around dream themes, characters and symbols. Inspired by Jungian dream psychology, the app is highly educational, and also comes with entertaining videos.
SweetDreams offers users a platform where they can explore and better understand their dreams. Some dreams help the dreamer process emotions and find new solutions to problems, whereas others come with intuitive guidance. Some dreams bring dreamers on faraway journey, outside of time and space, some dreams are lucid, and others help connect the dreamer with relatives or friends who may have transitioned.
Whatever type of dream, Dream Expert Anna-Karin Bjorkund is here to help dreamers along the way, in her beautiful SweetDreams App.
Summary of Features:

SweetDreams is much more than a dream dictionary it offers a powerful step-by-step guide for working with dreams.
SweetDreams offers more than just generic interpretations the dream interpretation examples help users reflect upon their feelings in a dream, and are designed with unique questions around dream themes, characters, and symbols.
SweetDreams has an abundant section on Jungian dream psychology with many extracts from Anna-Karin's book: Dream Guidance: Interpret Your Dreams and Create the Life You Desire!
SweetDreams features Swedish Dream Expert, Anna-Karin Bjorklund, M.A. with highly entertaining dream videos. She is there to give users tips along the way, as they interpret their dreams.
SweetDreams also has a library of dream articles, and a dream sharing function – selected shared dreams are commented upon by Anna-Karin Bjorklund, with suggestions around interpretations in her articles, videos and social media.
About Anna-Karin Bjorklund, M.A.

Anna-Karin Bjorklund is a Dream Expert, with Masters Degrees in Counseling Psychology and Parapsychic Science. Trained in both Eastern and Western modalities, she loves sharing her passion for the guidance received from dream journeys in her vibrant media appearances, shows and seminars. She is the author of Dream Guidance: Interpret Your Dreams and Create the Life You Desire!
Contact

To learn more about SweetDreams, you are invited to view the Official App Trailer, download it from the App Store, or visit Anna-Karin Bjorklunds website.
For media enquiries, please send an email to mimirosemedia(at)gmail(dot)com