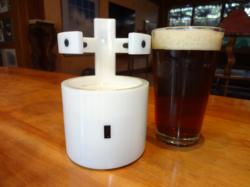 Bellaire, Texas (PRWEB) December 18, 2012
Today, LineBot launched a Kickstarter project to raise funds for Drink Runner, a line-following service robot that delivers individual drinks in total darkness non-stop for up to 4 hours per charge. Swarms of them act like a conveyor belt, shuttling drinks along a closed-loop course.
As a reward for their early support, the first 350 Founders to pledge $ 199 or more will receive a robot which would normally retail for $ 299 or more. Those who order multiple units can request customized Drink Runners, so their guests can easily distinguish one unit from another. LineBot will begin shipping the first 350 Drink Runners in March of 2013.
The inspiration for Drink Runner came from sushi restaurants where the food is distributed by a conveyor belt that winds through the restaurant. While very efficient, food conveyor belts are expensive and inflexible. Drink Runner is just as efficient, but is a fraction of the cost and easily adapts to existing structures. Unlike Drink Runner, you cant test drive a food conveyor belt system. You either install one or you dont. To try out LineBots system, all you need is a single Drink Runner and a roll of electrical tape.
To load and unload drinks, a user blocks Drink Runner's path to stop it and removes the obstacle to let it go. Because Drink Runner sees in the infrared spectrum, it can follow a line and detect obstacles in total darkness. Consequently, a Drink Runner will never collide with another unit.
Creating Drink Runners guide line is easy and requires no special training.