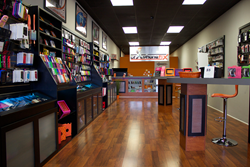 FORT LAUDERDALE, FL (PRWEB) February 09, 2015
DrPhoneFix, the mobile phone and tablet repair service retailer with 25 stores in the United States, announced today that it is launching a Cell Phone Repair Franchise program for qualified individuals. Franchisees have two options: Establishing a traditional DrPhoneFix store front, which may range from 500 to 2,000 square feet; Or a DrPhoneFix Mobile Express, which is a mobile cell phone repair vehicle. Franchisees receive extensive training to become mobile device repair professionals. The company supports franchisees with a large central warehouse, store management expertise, and marketing.
Our goal is to be the leading cell phone and tablet repair store within the communities we serve, said Dan Daragan, President of Business Development for DrPhoneFix. We have perfected a business model where we are the company that people turn to for all their smart technology repair needs now, we want to make that model available to people who have what it takes to succeed in owning their own business.
DrPhoneFix repairs smartphones, tablets, laptops, PCs, and game consoles. A family owned business, the company is committed to high standards in business practices, management, and customer service. The chains growth attests to the effectiveness of this value system. DrPhoneFix supplies all of the parts utilized for repair, along with all of the cell phone accessories found in our stores. The company operates stores in Florida, Texas, Utah, North Carolina and Alabama.
A Growth Market

The growth that DrPhoneFix has experienced since its founding shows that consumer demand is growing for repair of mobile devices. We are where the auto industry was in about 1915, said Daragan. Once people rely on these technologies and dont want to throw them out every time they have the slightest problem, we see an increased interest in quality repair services. Our franchisees can tap into this growth and profit personally from it.
A Unique Store Front

The franchise opportunity is a complete, turn-key business package. In addition to repair training at headquarters, the franchise includes store layout design, a proven point of sale (POS) system that enhances customer in-store experience and assists store owners in conducting day-to-day business effortlessly. Each new franchise contains a large startup inventory of parts and accessories. Franchisees get the benefit of access to the companys 24,000 square foot headquarters warehouse, which includes tens of thousands of accessories and parts.
DrPhoneFix Mobile Express

DrPhoneFixs second franchise option, Mobile Express, gives the franchisee a dedicated, branded device repair vehicle. Covered with high-end designed decals, the Mobile Express is literally a mobile advertisement for the franchise. The fuel efficient car comes fully equipped with all the tools, accessories and parts the franchisees will need to become a Mobile Cell Phone Repair professional.
Marketing for Franchise Success

DrPhoneFixs experienced in-house marketing team will support franchisees, applying highly specialized expertise in recruiting new customers and building a successful local brand over time. Franchise marketing services include marketing strategies, local store management, pay-per-click (PPC) management, graphic design, web design tech support, content writing, print services, search engine optimization (SEO), and press releases.
For more information, visit http://OwnaDrPhoneFix.com
About DrPhoneFix

DrPhoneFix was founded in 2008 by Bill Daragan and Timothy Phelps in Miami, Florida. It was at this time that they transformed their existing mall kiosks from selling cell phone accessories, to also repairing cell phones and tablets. On the heels of the success of the kiosks, they opened a full-fledged retail Headquarters operation in Plantation, Florida in 2011. As Bill and Tim gained more knowledge and experience in the industry they opened a store in Miramar FL, then another in Davie FL. The high demand for cell phone repairs influenced them to sell license agreements allowing other entrepreneurs to share in the success of DrPhoneFix. The first licensed operation opened in Oxford, Alabama in 2012. Currently, more locations are opening in the South Florida area.
Media Contact

Dan Daragan

Office: (877) 752 0956

Fax: (954) 607 5797

Email: Dan(at)drphonefix(dot)com