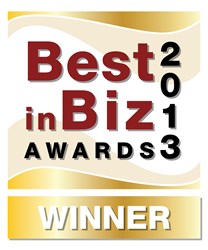 Palo Alto, CA (PRWEB) November 22, 2013
DudaMobile has been named the gold winner as the 2013 Small or Medium Business Service of the Year in Best in Biz Awards, the only independent business awards program judged by members of the press and industry analysts.
With 5 million mobile-optimized websites under its platform, DudaMobile's award-winning technology allows small- and medium-sized businesses to convert their existing sites into a stunning mobile-optimized one. Business owners, agencies, and digital marketers have also used the robust platform to create sites for customers in minutes. The Best in Biz Award was made eligible to small and medium business services created by companies from all industries.
The third annual Best in Biz Awards program, focusing on companies based or operating in North America, was the most competitive in its history, with the highest number of awards submissions to date and the most distinguished judging panel yet assembled. More than 500 entries were received this year, from a wide array of public and private companies of all sizes and from a variety of industries and geographic regions in the U.S. and Canada.
Best in Biz Awards 2013 honors were presented in more than 50 categories, including Company of the Year, Fastest-Growing Company of the Year, Most Innovative Company of the Year, Best Place to Work, Technology Department of the Year, Executive of the Year, Most Innovative Product of the Year, Best New Product of the Year, PR Campaign of the Year and Website of the Year.
"Our main audience is small- and medium-sized businesses and we're honored to win a Best in Biz Award in the category most meaningful to us," said Itai Sadan, CEO and Co-Founder of DudaMobile. "We hope to continue our excellence in creating great mobile-optimized sites for SMBs around the world. We're really excited about 2014 as well."
Winners of Best in Biz Awards 2013 were determined by an independent panel of 50 judges from top-tier news, business and technology publications, as well as broadcast outlets and analyst firms, such as Accounting Today, Arizona Daily Star, Atlanta Tribune, Bloomberg Businessweek, Cascade Business News, Chicago Tribune, Chip Design Magazine, Computerworld, Crains New York Business, CRN, Dallas Morning News, Dayton Business Journal, Detroit Free Press, ECT News Network, Entrepreneur, eWeek Channel Insider, Executive Travel Magazine, Fast Company, Financial Times, Fortune, Hartford Business Journal, Hartford Courant, Inc. Magazine, King Features Syndicate, Lab Reviews, Law Technology News, Miami Herald, Memphis Business Journal, Network World, NorthBay Biz, Orange County Register, PC Magazine, Phoenix Business Journal, Pittsburgh Business Times, Prairie Business Magazine, Quad-City Times, Reuters, San Francisco Chronicle, San Jose Mercury News, Savannah Morning News, Small Business Digest, South Florida Business Journal, Tech.Blorge, Tech-Gaming, Times (Munster, Indiana), Upstart Business Journal and USA Today.
The projects entered in this years Best in Biz Awards competition were highly ambitious and relevant to the current needs of consumers and businesses, said judge Heather Somerville, business reporter with Bay Area News Group, a media group that includes the San Jose Mercury News, Oakland Tribune and Contra Costa Times. It was a tough decision among several strong contenders not enough medals to go around. The entries I selected as winners had a refreshing and unique approach, and wanted to solve problems they had faced in their own businesses and personal lives. I hope the recognition they receive through this contest gives them some ammunition to continue growing and innovating their services.
For a full list of gold, silver and bronze winners in Best in Biz Awards 2013, visit: http://www.bestinbizawards.com/2013-winners.
About DudaMobile

DudaMobile is a do-it-yourself mobile website platform that gives small- and medium-sized businesses a fast, simple and affordable way to build a mobile-friendly website. With its patented one-click conversion technology, DudaMobile makes it easy to convert any desktop website into a mobile-optimized site in minutes. DudaMobile is widely used amongst agencies, designers, marketers and small businesses, as well as large enterprise partners including AT&T, Yahoo!, Google, Homestead, Intuit and OpenTable. DudaMobile is based in Palo Alto, California and currently hosts five million mobile websites on its platform. For more information, visit http://www.dudamobile.com.
About Best in Biz Awards

Best in Biz Awards recognizes top companies, teams, executives and products for their business success as judged by established members of the press and industry analysts. Best in Biz Awards honors are conferred in three separate programs annually: North America, EMEA, and International. Entries are currently being accepted in the third annual Best in Biz Awards 2013 EMEA (Europe, Middle East and Africa) program, until the final entry deadline on January 24, 2014. Any organization from any industry operating in EMEA may enter any of the more than 50 company, department or team, executive and product categories. For more information about the entry process and categories in the EMEA program, please visit: http://emea.bestinbizawards.com.