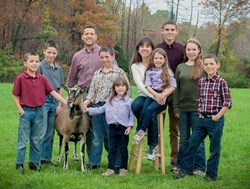 Scottsburg, IN (PRWEB) November 28, 2013
During Entrepreneur Month, PJ and Jim Jonas of Goat Milk Stuff announced they are calling upon Americas parents to teach children the importance of developing an appreciation for the strong work ethic that made America great. As parents of 8, ages 6 to 16, they encourage their children to learn about the family business and allow each to make an age-appropriate contribution to its success.
Founded by PJ Jonas, Goat Milk Stuff is online at http://www.GoatMilkStuff.com, where it markets a full range of all-natural goat milk soaps, lotions and more made by the family on its Indiana dairy farm.
PJ said, Our children learn about business by helping in ways from milking goats to assisting in the office. Teaching children a strong work ethic provides them with invaluable focus and perspective that complements their education and prepares them to eventually facilitate and contribute to economic growth in their communities.
A Presidential Proclamation designated November as National Entrepreneurship Month, calling upon universities, companies, foundations and others to actively encourage the entrepreneurial spirit.
This year PJ Jonas won StartupNations Business Mom of the Year Competition. She and Jim were also honored when Indiana presented them the states Economic Development through Growth and Entrepreneurship (EDGE) Award.
The Jonas family story has been reported widely, including on TVs The Doctors, The Today Show, in Oprah Magazine and by other media. They are considered an exemplary family working together to achieve the American Dream.
The entire family working together leads to fun times that are also educationally enriching, said Jim, a former middle school science teacher who with PJ, a former engineer, homeschool their children.
PJ added, Children learn valuable life lessons when helping as responsible family members. Whether cleaning their rooms or having an after school job or helping around the house, children benefit greatly when their work is recognized and appreciated.
The Jonas family business maintains an active social media presence with a growing following at Facebook.com/GoatMilkStuff, YouTube.com/GoatMilkStuff, Twitter.com/GoatMilkStuff, pinterest.com/goatmilkstuff, and Google-Plus.
Online at GoatMilkStuff.com, the Scottsburg, Indiana company makes and markets all-natural Goat Milk Stuff products including goat milk soaps, lip balms, lotions, bath bombs, laundry soap, soy candles and more. For media contact Brian Dobson at DobsonPR.com or bd(at)dobsonpr(dot)com.