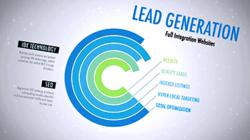 Mesa, Arizona (PRWEB) June 12, 2012
Dynamic Page Solutions has launched their latest real estate marketing video. Designed to enhance their company brand, the latest video positions Dynamic Page Solutions as the most effective real estate website company in the industry today. They offer real estate websites that win top search engine results with a unique combination of ppc campaign traffic and organic search results for related, strategic keywords. (For clients that want to keep their website-related costs lower, organic search results will provide free traffic over time and strategically priced programs are available.) Dynamic Page Solutions provides ongoing education for agents and brokers on how to optimize their own websites. Or, clients seeking immediate first page placement, traffic and real estate leads will benefit from a ppc (pay per click) campaign that will be carried out by Dynamic Page Solutions in-house SEO team. They will run split tests on keywords throughout the life of the campaign to help keep ppc costs as low as possible and help their clients receive the best return on investment.
One topic touched on in the video is the paramount benefit of using an indexable IDX that provides further enhancement of a website, therefore giving optimization to property types by allowing branded web pages to be returned for a large number of user queries. By creating many web pages that target a large variety of search keywords, it greatly increases the chance that targeted keywords will be matched to a homebuyers search query on the Internet.
Dynamic Page Solutions newest video further brands the company that developed this groundbreaking, patent pending technology that sets the benchmark within the industry. Potential customers will see that the overview in the new video reflects the forward-thinking vision and customer-focused attention that the company continues to impart.
Dynamic Page Solutions currently provides services in nearly seventy MLS markets across the United States, and continues to grow each month. The industrys top agents and brokers look to Dynamic Page Solutions when they want the most traffic and most leads from their real estate websites. Some examples of websites currently with Dynamic Page Solutions include http://www.searchnewjerseyshorehomes.com, http://www.seetucsonhomesforsale.com and http://www.everythinginsaltlakecityut.com/.
For additional information on IDX solutions, SEO for real estate websites and the various website and SEO packages available, contact Dynamic Page Solutions at 888-782-8184 or visit their website at http://www.DynamicPageSolutions.com/