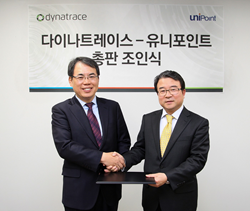 Boston, MA and Seoul, Korea (PRWEB) April 13, 2015
Dynatrace, the market leader in digital performance management, and Unipoint, a leading enterprise solution provider and system integrator, today announced that Unipoint has been appointed the Korean master partner to actively market and sell Dynatrace solutions and expand its business footprint in the Korean market.
Founded in 1996, Unipoint provides e-Business solutions and services based on project know-how, and subject matter experts that specialize in the practical aspects of implementation. Unipoint is currently concentrating on deepening its product portfolio. As part of its strategic focus in the enterprise solution market, the company will leverage this new Dynatrace partnership, as well as existing partners, including IBM, Microsoft and Ahn Lab.
As the use of mobile and digital channels continues to grow in various markets, including finance, eCommerce, logistics and telecommunications, businesses need to understand their users' behavior and perceptions to properly optimize web and mobile performance. Dynatrace is continuously expanding its partner eco-system, including the recruitment of new partners like Unipoint to provide APM solutions that are further customized to meet specific local business needs.
"Digital performance directly impacts our revenue, we have successfully leveraged Dynatraces solution to establish a strong position and remain competitive in our market. Dynatrace and Unipoint helped us to solve persistent IT problems affecting our business that we wouldnt have been able to tackle otherwise, said Park Seungnam, managing director of SeAH Group, which uses Dynatrace solutions provided via Unipoint. We welcome this strong partnership between Dynatrace and Unipoint, which will certainly benefit organizations in the Korean market looking for innovative business and technical solutions.
"APM is becoming more important than ever due to the appearance of new IT infrastructure, such as the cloud, mobile and big data. I'm sure that APM will be one of the most promising IT areas of the future, particularly given that the global APM market is expected to grow 12.86% every year until 2019 , said Ahn Kukpil, CEO at Unipoint. "As the master partner of Dynatrace solutions, Unipoint can now provide its Korean customers with a value-added, integrated APM solution with differentiated services that drives business results more quickly."
Through this new relationship with Unipoint, we have a great opportunity to accelerate our business and grow market share in Korea, said Steve Jobson, Dynatrace Asia-Pacific Vice President. We believe combining Dynatrace leadership and innovation with Unipoints excellent market reach, reputation and capability presents a premium offering of digital performance management for Korean customers.
About Dynatrace LLC

Dynatrace LLC, the market leader in digital performance management, is the innovator behind the new generation of Application Performance Management. Our passion: helping customers, large and small, see their applications and digital channels through the lens of end users. Over 6,000 organizations use these insights to master complexity, gain operational agility, and grow revenue by delivering amazing user experiences.
Read more about Dynatraces leadership in the APM market, here.
Follow Dynatrace on: