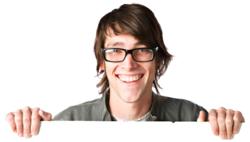 Grand Rapids, Michigan (PRWEB) May 16, 2012
Ready to get your geek on? Then meet the new e-commerce geeks in town, SupplyGeeks.com, officially launched to the public on May 14th. The maverick west Michigan based startup has quickly made a bold splash into the B2C (business to consumer) office supply space, a sector traditionally dominated by big box superstores. "We think that people want a fresh take on office supplies" says Eric Houtkooper, the company's newly hired Director of E-Commerce. "Let's face it, many people find shopping for office supplies to be boring. Why not turn that perception upside down? At SupplyGeeks.com, we're obsessed with finding the coolest, smartest and most effective office products out there. We think that it's time to bring fun back to the office supply space."
SupplyGeeks.com officially launched their e-commerce site on May 14th, with over 35,000 products, including basic office supplies, office technology products and business furniture. Before launch, the SupplyGeeks gained critical feedback directly from their customers. "It was important to us that the web site be unique and fun, but also easy to use" said Houtkooper. "Our web site testers helped us to craft a more user friendly web site. It's critical in today's e-commerce environment that visitors can find the products they need and maybe even discover some new favorites."
The quirky SupplyGeeks.com style has already brought the startup some early fans. "Early users have told us that our tone is unique – and in fact, one site visitor actually told us that we are 'the antithesis of the traditional office supply store'. That surprised us a little bit, bringing smiles all around. We sincerely want to make your work day easier and a little bit more enjoyable. We pride ourselves on having a unique perspective on office supplies. We call it our geek factor. If we can continue to deliver on that promise, we think we have a great shot" said Houtkooper.
Reaction to the SupplyGeeks.com "obsessed with office supplies" message has been positive, with significant Facebook and Twitter signups. Customers have taken to social media to show their interest and love for SupplyGeeks.com, and have also put themselves in the loop by signing up in advance for the SupplyGeeks newsletter. All of these entities are an extension of the unique SupplyGeeks.com quirkiness, obsession with cool office products and active discussion of the modern office experience in the U.S.
Headquartered in Grand Rapids, Michigan, SupplyGeeks.com is backed by a parent company with over 60 years of experience in office supplies. SupplyGeeks.com Director of E-Commerce, Eric Houtkooper, was previously President of PupLife Dog Supplies and has also served in key technology posts for the Chicago Board of Trade, CNA Insurance and the California based vertical search startup EoExchange.
The SupplyGeeks.com site features a wide selection of discount office supplies, copy paper, business furniture, 3 ring binders, printer ink and toner. Other than offering extensive lines of products, the site also delivers unmatched interaction and customer service. SupplyGeeks.com plans to unveil several tech upgrades in the weeks ahead, including a live chat functionality to answer customer requests in real time.
For more information about SupplyGeeks.com, contact Eric Houtkooper at ehoutkooper(at)supplygeeks(dot)com.