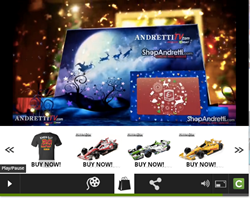 Austin, TX (PRWEB) December 04, 2014
Cinsay, the leader in video commerce, reports an early seasonal increase for views of its multipatented Video Smart Store technology. Along with more traffic to the sites various merchant stores, an increase for viewer interaction within the video player is also being tracked. Some stores are reporting conversions as high as 6.7% for take actions inside the video along with significant access from international audiences outside the U.S. and Canada.
This years Black Friday, (the Friday following Thanksgiving), had analysts describing overall sales as lower than the previous year. Cyber Monday (the following Monday) however, told a different story as purchases increased by 17% for online sales totaling over $ 2 billion for the day. In fact, the weekend leading into Cyber Monday saw sales up 26% over 2013.
Cinsay merchants are benefiting this year from both an increase in global online sales as well as the conversion increase which video inherently delivers as compared to traditional ecommerce. Cinsay also offers merchants something no other solution provider can: a completely portable, interactive and shareable video store that is almost as robust and immersive as walking into the actual store at the mall, said Christian Briggs, Founder and CEO of Cinsay. Our video commerce technology has proven to be a complete and effective way for anyone selling online by reaching a bigger audience, reducing the friction of clicks to the purchase and simply by making sales easier to achieve, Briggs added.
Several businesses like Strokers Dallas, are experiencing continued audience growth globally as more videos are shared by the Dallas-based Victory motorbike dealership and entertainment destination. The company sees most activity from the stores Facebook and shopping site with video views and shares.
Other merchants like Kaprise Sportswear are well situated for the holiday buying season featuring professionally produced video, well-priced items and unique apparel styles. Bigger brands marketing and selling online include Canon, Target, iRobots vacuum and OtterBoxs iPhone cases. Other sites powered by Cinsay which are actively selling this Christmas season include: ShopAndretti.com, ShopRisi.com, ShopMarioA.com and ShopSureToneLive.com
These merchants can quickly view their stores performance data interpreted through bar and pie charts and view details about when, where, and how their store was viewed. The daily updated and in-depth analytics enable merchants to make any needed changes to products, pricing, descriptions and keywords on the fly as the hottest season for online selling unfolds.
Growing demand for video content on mobile:
Each year, more and more video content is being published and viewed. The increase in video consumption for mobile is huge. Much of Cinsays merchants video content is now seen via mobile with views averaging over 50% for smartphones and tablets. As smartphones become larger and have higher quality screens, mobile video views should continue to climb. This presents a great opportunity for merchants seeking an economical way to leverage multimedia that can effectively market and sell more goods and services.
Were just at the beginning of a commerce revolution for both retailers and buyers, now is the time to make changes to how you acquire new leads, market your business and sell products. From our recent launch with the growing direct marketing company, Jeunesse Global to single mom and pop stores, this should continue to be a great fourth quarter for retail and were even more excited about 2015 as more people adopt video commerce and Cinsay rolls out even better technical enhancements for the Video Smart Store, Briggs stated.
Find out now how Cinsay is helping retailers of all sizes, increase their online sales. Call Director of Sales at Cinsay.com, at 1-855-725-2462.
About Cinsay
Austin-based Cinsay has created a next-generation ecommerce, viewer interactive, video-based platform for any size business. Cinsays syndicatable technology enables anyone to sell products, display printable coupons, capture donations, and generate leads all inside its multi-patented Video Smart Store (VSS) technology. Along with being the premiere video commerce provider for small and medium businesses, Cinsay is adding new exclusive content channels for sports, music and movies aligned with partners including Andretti Autosport via AndrettiTV.com and Suretone Entertainment via their site SureToneLive.com and has been selected as a software provider to SMBs via Yahoos Commerce Central.
Forbes named Cinsay one of Americas Most Promising Companies while eTail Conferences named Cinsay a Rising Star in innovation for 2012. Red Herring also selected Cinsay for the Top 100 Companies in North America for 2014. Cinsays eCommerce video-based platform can be used for any individual or business. For more information, please visit http://www.cinsay.com or call 855-725-2462.
One or more of the following nine patents may protect Cinsays software, systems, and/or services. U.S. Patent Nos. 7,840,415; 7,987,098; 8,769,053; 8,782,690; 8,813,132; 8,312,486; 8,533,753; 8,893,173 and 8,549,555. Visit http://www.cinsay.com/patents for more information.