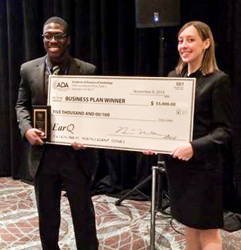 Las Vegas, NV (PRWEB) November 12, 2014
On November 6-8, the EarQ team celebrated the future of the hearing healthcare industry and independent practice ownership at the 2014 Academy of Doctors of Audiology (ADA) Convention in Las Vegas.
In order to help foster an entrepreneurial spirit among audiology students and help guide them along the path to successful practice ownership, EarQ proudly sponsored the ADA Student Business Plan Competition for the second consecutive year.
At a time when our industrys future has never been brighter, we are deeply committed to helping audiology students understand the value of owning their own practice and offering them the tools they need to achieve their professional goals, said Ed Keller, president of EarQ.
Judged on their creativity, feasibility, completeness, cohesiveness, professionalism and polish, the business plans were evaluated by a panel of industry experts. The grand prize winning team, Rachel Otto and Femi Nyatepe-Coo, received a $ 5,000 ADA cash grant to be used to develop their business objectives and skills in order to strengthen their ability to help more people overcome hearing loss.
The EarQ team also discussed EarQs cutting-edge business and marketing resources and programs designed to help connect more patients to private practices, including IRIS. EarQs most forward-thinking program to date, IRIS utilizes advanced website development strategies and targeted search engine marketing, search engine optimization, and social media methods to help practices stand out in the increasingly digital marketplace.
About EarQ:
A strategy and consulting firm that supports hearing healthcare providers nationwide, EarQ utilizes innovative business and marketing practices and national public awareness efforts to advocate for excellence in private patient care. Through its 1,400 hearing healthcare provider locations nationwide, EarQ helps provide greater access to quality hearing healthcare services and products.
http://www.earq.com

Like us on Facebook

Follow us on Twitter