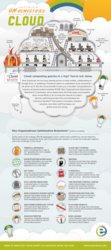 Sunnyvale, CA (PRWEB) March 30, 2013
Eastwick, an independent strategic technology communications and PR practice, today announced the launch of the revolutionary patent pending NOOB (Neo-Organizational Optimization Brainstorm) technique. Seven years in the making, NOOB aggregates social collaboration platforms, neural networks, Big Data analytics, sentiment tools, and virtual payment systems to finally reveal the enigmatic logistics and inner workings of the cloud.
According to a recent study, one in five Americans (22 percent) admit that theyve pretended to know what the cloud is and how it works. Using the revolutionary NOOB approach, Eastwick has peeled back the fluffy layers of cloud computing and uncovered what clouds REALLY do to bring the Internet to today's desktop, optimizing productivity and elevating the Cumulous Quotient that powers innovation and business valuation and other stuff that keeps our global economy strong.
What really happens in the cloud

Neo-Organizational Optimization Brainstorm has revealed: