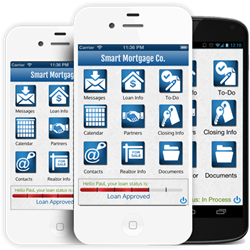 Boston, MA (PRWEB) December 06, 2013
Easy Mortgage Apps LLC (EMALLC) is pleased to announce the formation an all-new and strategic business relationship with Lending Manager, a leading provider of Website development, LOS, CRM, pricing and credit integrations. EMALLC will utilize Lending Managers comprehensive understanding of the loan origination and CRM software implemented by nearly 90% of the industry to offer clients a seamless integration experience.
According to EMALLC spokesperson, Michael Kelleher, Easy Mortgage Apps believes this new partnership with Lending Manager will continue to differentiate our two companies within the lending industry. Mortgage Lenders are a top-notch team of skilled individuals who posses an unparalleled understanding of all aspects in mortgage lending technology. Lending Managers expertise and the ability to integrate with their proprietary programs will greatly enhance our ability to service our customers and together we are offering an experience second to none.
Easy Mortgage Apps LLC makes it possible for enterprises of all sizes to compete with the nations largest banks and lenders. The sharp, innovative Lending Eco System allows clients a unique method of communication and interaction with both borrowers and realtor partners. Using a mobile app platform specifically designed and engineered for the mortgage industry, EMALLC apps embody the future of the lending environment.
Lending Manager builds and develops websites for mortgage and lending companies incorporating all the latest new features available. They also build high-end mobile websites that allow customers to manage their loan applications with ease from any smart phone or tablet. Lending Manager has been integrated and/or tested for use with many third-party software applications.
About EasyMortgageApps.com

Easy Mortgage Apps LLC (EMALLC), located in Massachusetts, builds todays most innovative mobile apps for lending companies. As a leader in mobile technology for mortgage apps, they utilize many of todays most efficient features to give customers all the essential details they need to manage their loan app. Using Mobile Capture Technology, customers can upload documents to their lender and lenders benefit from drip marketing through push notifications.
For more information, please visit: http://www.easymortgageapps.com/.
About Lending Manager

Lending Manager builds customized websites and mobile websites specifically for the mortgage and lending industries. They incorporate many convenient features such as a client portal, mortgage calculators, and online payment options. They offer seamless integration with many of todays leading mortgage loan platforms.
For more information, please visit: http://www.lendingmanager.com/.
Media Contact:

Michael Kelleher

Easy Mortgage Apps LLC

Toll Free: 888.987.6842

eFax: 781.998.5911