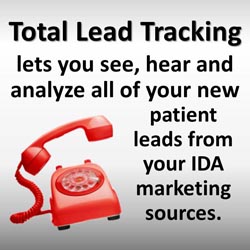 (PRWEB) February 02, 2013
Tracking the results of dental marketing campaigns is the best way to maximize results and minimize expenses, yet many dentists don't bother for good reasons. Traditional advertising via phone book ads and mailers is hard to track accurately. There's no way to tell how many people see an ad in the phone book or read a mailer before it hits the 'circular file'.
In contrast, the new dental marketing websites from Internet Dental Alliance, Inc. (IDA) make lead tracking easy. It's built right into each of its New Patient Portals (dental websites). Dentists can access data from the Reports section of the Control Panel at any time of day or night.
Lead source data is automatically compiled, analyzed and organized into easy-to-read graphical analyses by geographical location, dental market and lead type. Doctors also have the option to download raw data onto spreadsheets if they want to do more analysis. The reports let dentists evaluate which of their campaigns are reaching the most new patients so they can maintain strategic control of their online marketing resources.
Lead tracking is the single best way to monitor the effectiveness of your dental marketing efforts, explains Jim Du Molin, founder of Internet Dental Alliance and a former dental consultant. It lets you compare your different dental websites side-by-side, and see which dental services and geographical areas are producing the most new patients. You can then adjust your marketing campaigns to maximize the number of new patients into your practice every month.
IDA offers three levels of New Patient Marketing Machine