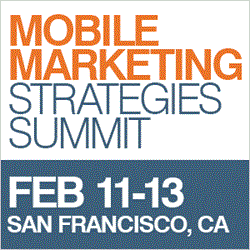 San Francisco, CA (PRWEB) October 29, 2013
Global Strategic Management Institute (GSMI) is excited to announce that the 7th installment of the Mobile Marketing Strategies Summit (MMSS) agenda will feature executives from eBay, ModCloth, and Shazam. The event is set to take place February 11-13, 2014 at the Marines Memorial Club and Hotel in San Francisco, CA.
Christopher Malin, eBays Head of Mobile Marketing and Global Internet Marketing Strategy, will address the importance of having a solid mobile marketing strategy in his opening keynote Winning the Mobile Race: Why Mobile is Imperative to Staying Competitive. At eBay, Christopher leads integrated product marketing and channel marketing for core eBay mobile apps and mobile web properties, as well as the worldwide digital marketing strategy across SEM, SEO, Display, Affiliate, and Social. In his presentation, Christopher will discuss a brief history of mobile marketing, as well as what eBay is doing to create a meaningful and relevant mobile experience for their customers.
Also joining the summit in February is Sarah Rose, Vice President of Product at ModCloth, a popular online retailer. Sarah will discuss the connection between social and mobile at ModCloth in her presentation Creating a Complete Shopping Experience: Marrying Social & Mobile. Sarah directs product development, strategy, and user experience design and research at ModCloth. In addition to this product-focused work, she also oversees the customer acquisition, retention, and community teams.
Lastly, Shazams Executive Vice President of Marketing, David Jones, will be addressing the tough questions regarding mobile consumer engagement in his case study presentation titled Driving Brand Awareness: Best Practices for Mobile Consumer Engagement. At Shazam, David is responsible for all aspects of marketing, including consumer marketing, segmentation, research, business intelligence, brand, PR, communications, events and partner marketing. David focuses on driving customer acquisition, engagement, activity and retention – which makes his presentation a must-see!
Other presentations and speakers for the February event include: