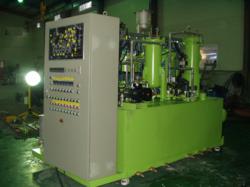 Barringron, IL (PRWEB) May 04, 2011
EcoloCap Solutions Inc. (OTCBB: ECOS), an innovator of alternative energy products, today announced an exclusive distribution agreement with Nano-Tech Industries Pty Ltd, of Acacia Ridge, Australia, http://www.nano-techindustries.com/nanotech, an associated company of http://absorbedpower.com/ for EcoloCap products, namely the Nano Processing Unit (NPU) and the additive for the production of M-Fuel.
After extensive testing of the M-Fuel by the City of Brisbane confirmed the reduction in emissions as well as the cost savings M-Fuel procures, Nano-Tech Industries Pty Ltd, agreed to use their network to distribute all EcoloCap products in Australia, New Zealand and the Pacific Islands.
The NPU processor produces up to 18,000 gallons of emulsion fuel a day and is capable of emulsifying Diesel, Kerosene and other Heavy Fuel Oils (HFO). M-Fuel is an emulsion of 70% diesel and 30% water, plus EcoloCap's additive. Independent tests have indicated a reduction of particulate emissions of over 90% and of NOx by 65% without compromising fuel volumes consumed. Nano-Tech's clients can expect to save a minimum of 20% on the costs of fuel by utilizing M-Fuel without any modification to their equipment. A description of the technology and features can be seen at http://www.youtube.com/ecolocap, featuring EcoloCap's Korean subsidiary KMBT.
Nano-Tech put EcoloCap's M-Fuel through extensive testing and the results met or exceeded the advertised features. Besides the reduction in harmful gases having surpassed expectations, the cost reduction at today's high fuel prices is a game changer for large users of Diesel and other Heavy Fuel Oils, and this made EcoloCap's product line a very attractive solution for Nano-Tech to distribute.
Michael Siegel CEO states: "Given the rapid increase in the international price of diesel fuel, M-Fuel represents a solution for larger fuel users, faced with impossibly high fuel prices. Municipal transportation authorities' annual fuel costs can easily exceed $ 100,000,000. At today's diesel prices the switch to M-Fuel would decrease costs by some $ 25,000,000. Additionally, M-Fuel obviates the need to install emissions reduction equipment or even the purchase of brand new equipment to meet recently enacted emission regulations. Additionally I would like to stress to our shareholders that while offering the customer reduced process and emissions, Ecolocap generates a constant revenue stream from the production of every gallon of M-Fuel through the sale of additive. A typical M-60 installation produces 18,000 gallons per day generating additive sales of $ 3,600 per day for EcoloCap."
About The Company: EcoloCap Solutions Inc. (OTCBB: ECOS) and its subsidiaries Micro Bubble Technologies Inc. ("MBT"), K-MBT Inc., are an integrated group of environmentally focused technology companies that utilize advanced nanotechnology to design, develop, manufacture and sell alternative energy products. Their portfolio of products and services include Li-Nano Battery, a rechargeable battery that surpasses the performance capabilities of any existing battery, MBT's M-Fuel, an innovative suspension fuel for non-gasoline applications that exceeds all conventional fuel's efficiency and the unique single step process for the production of Bio-Diesel. EcoloCap markets its products worldwide, directly and through agreements with distributors. For additional information, please visit the EcoloCap website http://www.EcoloCap.com.
Company Contact Information:

EcoloCap Solutions Inc.

1250 South Grove Avenue, Suite 308

Barrington, Illinois 60010

Tel: (866) 479-7041
This press release may contain statements of a forward-looking nature regarding future events. These statements are only predictions, and actual events may differ materially. Please refer to documents that EcoloCap Solutions Inc. files from time to time with the Securities and Exchange Commission for a discussion of certain factors that could cause actual results to differ materials from those contained in the forward-looking statements.
###