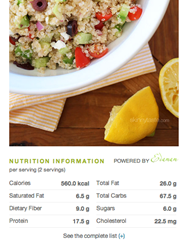 New York, NY (PRWEB) January 31, 2014
Edamam announced today a partnership with Random House to power the nutrition for recipes on TasteBook. Edamam is a semantic technology company on a mission to organize and structure the worlds food knowledge. The company has built an engine to provide real-time nutrition analysis for any recipe or ingredient list, leveraging natural language processing. It offers this unique functionality both to consumers and businesses such as TasteBook, the Random House online community where cooks can organize their culinary lives, discover and share recipes, while connecting with friends.
Our vision is to help people make smarter food choices, by giving them the right nutrition information when and where they need it. We see in TasteBook, a community with millions of users, a great partner to realize this vision. The goal is one day to become the nutrition engine of the entire web, explained Victor Penev, Edamams CEO.
Edamams nutrition engine is provided to partners as varied as nutritionists, restaurants, weight loss programs, quantified self companies and recipe sites. Notable partners, apart from Random House, include Epicurious and The Daily Meal.
TasteBook strives to enhance the site with new features that will benefit the culinary lives of its members. Working with Edamam is one more way we are making it easier for our members to make nutrition and healthy eating a priority, added Lilly Kim, Associate Director, TasteBook.
In addition to its nutrition engine, Edamam offers also a recipe search and nutrition APIs and a database of 1.5 million recipes with appended detailed nutrition analysis and diet information.
About Edamam

Launched in 2012, Edamam is leading the way in leveraging technology to help people make smarter food choices and improve their health and well-being. The company has built a semantic technology platform to analyze and structure food and nutrition data and is providing this platform to businesses via APIs or licensing. For consumers, it offers a Nutrition Wizard on its website and a nutrition focused recipe finder apps, available on iTunes at and on Google Play.
For more information, visit http://www.edamam.com.