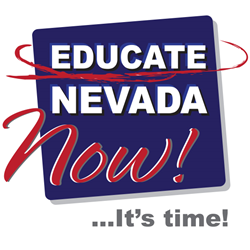 Las Vegas, NV (PRWEB) April 20, 2015
A new education coalition, comprised of education advocates and community leaders, launched today with the goal of providing adequate resources for all public school students in Nevada.
Educate Nevada Now (ENN) will focus on the States school funding system and work to ensure funding reform that meets the needs of a modern Nevada and supports every child, regardless of geographic location, family means or status in the community.
There is more support than ever in Nevada to fund education at adequate levels and to provide the necessary resources that support the education rights of children while preparing them to be college and career ready and contribute successfully to our economic growth," said Stavan Corbett, Director of Outreach for Educate Nevada Now. "Nevada consistently ranks among the lowest performing states when it comes to providing educational opportunities that prepare students for productive employment, post-secondary education, and active civic participation.
Educate Nevada Now, a non-partisan coalition of education groups and activists, civic and philanthropic leaders, grassroots organizations and educators, is led by The Rogers Foundation, a Nevada leader in education reform, along with local and national partners that includes the Mexican American Legal Defense Fund (MALDEF), the nations leading Latino legal civil rights organization, and the Education Law Center (ELC), one of the most effective advocates for equal educational opportunity and education justice in the United States. The coalition shares a common belief that those who are most affected by the education system should have a voice in long-term planning, funding and opportunities for students.
Adequate resources are so important for Nevada public school children, said Rory Reid, President of The Rogers Foundation. Adequate resources means highly skilled teachers, effective programs for English language learners and a whole host of programs and services to boost student outcomes.
Educate Nevada Now will raise public awareness about the need for school funding reform while engaging parents, students and community members in this effort. The group will conduct critical research and propose policies to address funding deficiencies and ensure the effective and efficient use of resources in schools and districts statewide.
For more information visit, http://www.educatenevadanow.com
ABOUT EDUCATE NEVADA NOW (ENN)

Educate Nevada Now is a non-partisan coalition of education stakeholders whose mission is to bring equity to the distribution of Nevada State educational funding. ENNs membership is comprised of education groups, teachers, community organizations, parents and students across the State. The reform of State education funding will ensure that all of Nevadas children receive the same educational opportunities regardless of location or wealth of the community. For more information visit the website at http://www.educatenevadanow.com.
ABOUT CIM MARKETING PARTNERS

CIM Marketing Partners provides services that include strategic consulting and planning, digital and social media, public relations and advertising, media buying and placement, corporate identity development and branding, brochure and collateral development, television and radio production and special events planning and management. For more information, call 702.944.2464 or visit the website at http://www.cimmp.com.