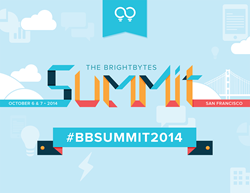 San Francisco, CA (PRWEB) October 06, 2014
Educational leaders from across the globe gathered today at the second annual BrightBytes Summit in San Francisco. Participants, thought leaders and industry experts worked collaboratively in a hands-on atmosphere to create plans for using research and analysis to drive measurable change in schools.
The BrightBytes Summit is an remarkable opportunity for educational leaders, said Rob Mancabelli, Co-Founder and CEO, BrightBytes. As the pace of change in the Twenty-First Century accelerates, it becomes increasingly difficult for educators to stay abreast of the latest research and evidence-based best practices. The Summit provides an opportunity for educators to talk about their greatest challenges, hear the latest research and share with each other evidence of which programs are improving outcomes.
Keynote speaker and world-renowned author and educator, Richard Gerver, kicked off the event with an engaging session that introduced the theme What it means to be a 21st century learning leader. He challenged the audience to think deeply about driving change and empowering teams. Throughout the following two days, attendees expanded on this theme: They explored how building strong networks, creating meaningful change processes, and applying the best tools in research and analysis are the building blocks of successful learning leaders.
In addition to Richard Gervers captivating keynote, guests enjoyed collaborative sessions by Will Richardson, lifelong educator and author of the top-selling TED book Why School? How Education Must Change When Learning and Information are Everywhere, and Bruce Dixon, co-founder and President of the Anywhere Anytime Learning Foundation. The audience also interacted with educational leaders and entrepreneurs from the Bay Area including Shazia Makhdumi, Head of Strategic Education and Kids Partnerships at Google Play, Brett Kopf, Co-founder at Remind, Matt Glickman, an Advisor to Edmodo, Esteban Sosnik, Executive Director at co.lab, and Daniel Yoo, Founder of Goalbook.
At the Summits Grand Finale, the BrightBytes Research Team unveiled an exciting new set of educational modules that will be launching within the coming months, and offered attendees hands-on opportunities to explore, learn, ask questions, and provide feedback.
Through this Summit, BrightBytes has been given an incredible opportunity to learn from nearly 100 educational leaders whose real needs we aim to address, said Hisham Anwar, Chief Technology Officer at BrightBytes. We wanted to give this captive audience an opportunity to test drive our newest offerings, including the newly released Early Warning Module, a game-changing addition to the BrightBytes Clarity platform. The algorithm in that module redefines the meaning of early warning by alerting educators of potential high school dropouts as early as elementary school, with a remarkable accuracy thats up to 40% higher than traditional flag-based systems.