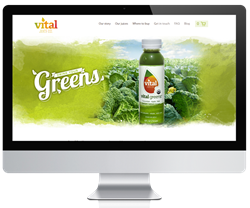 Seattle, WA (PRWEB) September 09, 2014
Seattle Web Design firm efelle creative partners with forward-thinking companies aiming to stand out in a saturated online marketplace. Vital Juice and Teadora are two startups that value cultivating health with natural ingredients, and share a vision to make their products sustainable and accessible without sacrificing quality. To represent this ideology, efelle created modern websites that focus on delivering their brand message through strategic user pathways.
The recently launched responsive designs ensure that visitors on all devices experience a dynamic, intuitive structure that spotlights the most relevant content for their needs. The back-end experience embodies that same philosophy for quick and simple inventory management and content updates. efelle creatives eCommerce Fusion software was customized to fit the specific needs of each client, and can be integrated with many 3rd party business-management programs. From analytics to email marketing, the Fusion dashboard provides future-proof technology to match the innovative front-end design.
About efelle creative
Founded in 2005, Seattle-based efelle creative specializes in custom website design, eCommerce functionality and Search Engine Optimization strategies. Over the past 9 years, efelle creative has grown into a team of 32 in-house web design, development and marketing specialists that produce award winning websites supported by robust software solutions.
With more than 500 custom website design and development projects under their belt, efelle creative continues to work with a variety of business entities in dozens of industries, from start-ups and local small businesses to large national and international corporations. In addition to its eCommerce website management platform, efelle creative also offers other custom online marketing solutions for law firms, membership organizations, medical and real estate industry professionals, and more.