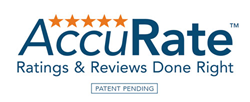 San Diego, CA (PRWEB) April 25, 2014
Einstein Medical has announced that it will be introducing a patent-pending ratings and review management system through its DocShop directory, the first and most trusted directory of its kind on the Internet. AccuRate is the first system to be designed specifically for healthcare professionals. It effectively allows physicians and dentists to promote positive reviews from satisfied patients while diminishing the effect of unduly negative reviews on their reputations.
AccuRate will add a compelling new dimension to DocShop. Doctors will also have the ability to add AccuRate directly to their practice websites, as well as their Facebook and other social media pages. This will give them control over their reputations that is unprecedented in the Internet age.
The current rating and review systems are broken, stated Robert Silkey, chairman and CEO of Einstein Medical. Competitors and spiteful people can say whatever they want on review sites and severely damage a business, and the business has very little legal recourse, even if the reviews contain false or even borderline-libelous statements. Theres no accountability for these types of reviews.
The AccuRate System will level the playing field a bit, adds Ted Ricasa, Einsteins president and COO. If a patient has a complaint, he or she will have the chance to vent, and the doctor will have the chance to respond and potentially defuse the situation. It gives the negative reviewer a chance to cool off and not act impulsively. At the same time, it makes it easier for doctors to capture and spread positive reviews from real patients and use them to promote their practices.
The recently filed patent application contained claims seeking protection for the methods of capturing and displaying reviews that are proprietary to the AccuRate System.
While full details of the system have yet to be made public, AccuRate will formally be unveiled at the upcoming annual meetings of the American Society for Aesthetic Plastic Surgery (ASAPS) and the American Academy of Cosmetic Dentistry (AACD). Attendees of these events will have the first opportunity to see how the system works and how it could benefit their practices.
Attendees of each event will also have the opportunity to claim and verify their current DocShop listings by visiting Einstein Medicals booth. Einstein representatives will be on hand to discuss the benefits of upgrading these listings and taking full advantage of the AccuRate System.
AccuRate System Demonstrations
Einstein Medical will be demonstrating the AccuRate System at:
The Aesthetic Meeting 2014 (ASAPS Annual Meeting)

North Building, Hall D: Booth #741

The Moscone Center

747 Howard Street

San Francisco, CA 94103

April 26-April 28, 9:00 a.m.-4:30 p.m.
The 30th Anniversary Scientific Session of the AACD

Florida Exhibition Hall: Booth #1123

The Gaylord Palms Resort and Convention Center

6000 W Osceola Pkwy

Kissimmee, FL 34746

Thursday, May 1: 11:00 a.m.-7:00 p.m.

Friday, May 2: 11:00 a.m.-7:00 p.m.

Saturday, May 3: 9:00 a.m.-2:00 p.m.
About Einstein Medical
For more than 20 years, Einstein Medical has been the foremost provider of innovative, exceptional business solutions for plastic surgeons, cosmetic dentists, ophthalmologists, and other cash-pay healthcare professionals. In addition to creating DocShop, the first online elective healthcare directory, the company is a pioneer in search engine optimization (SEO) and Software-as-a-Service (SaaS) applications.
Further information about Einstein Medical and the AccuRate Ratings and Review Management System can be obtained by visiting http://www.einsteinmedical.com or by contacting:
Delana Ricasa, Marketing

dricasa(at)einsteinmedical(dot)com

Phone: (800) 258-9221