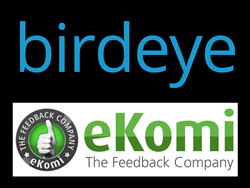 Berlin, Germany and Sunnyvale, CA (PRWEB) June 16, 2014
eKomi, The Feedback Company (ekomi-group.com) and BirdEye (birdeye.com) today announced a strategic partnership to create an integrated reputation management solution for enterprise customers worldwide. The comprehensive offering will make it possible for enterprises to monitor and manage all customer feedback for products, services, or brand via single interface. The combined solution will be rolled out in Europe and the US starting July 2014.
We are excited to build a one-stop solution for customer feedback worldwide, said Michael Ambros, CEO of eKomi. "BirdEye is an innovative Silicon Valley company that offers the best-in-class reputation platform for local businesses, and is scaling rapidly in the US.
Today is all about putting the enterprise customer first, said Naveen Gupta, CEO of BirdEye. CEOs can now have their finger on the pulse, know what customers are saying about their products, services and brand all in one place and easily amplify their presence and positive image.
Together, eKomi and BirdEye will deliver these reputation management solutions:


Online Presence – Be found consistently on 50+ online directories and local search sites.
Review Aggregation – Enterprise customers can monitor their reviews on 100+ sites via centralized dashboard, and can compare and analyze performance across branch offices and regions.
Transaction-Based Certified Reviews – Get authentic customer reviews, for products or services via a transaction-based automated review collection process.
Mobile Reviews for Local Storefront – Get reviews via SMS and kiosk check-ins.
Google Seller Ratings – Integrate your customer reviews in Google AdWords and Google Shopping to increase conversion for paid search campaigns.
Review Management and Marketing – Get real-time alerts via email and SMS. Respond to reviews from a centralized dashboard. Automatically promote reviews on your website, Facebook, Twitter, Google, Bing, 100s of directories and local sites.
Cloud Integrations – Customer feedback process integrated within 200+ applications like Outlook, Google, Salesforce, Oracle, Zoho, Marketo, MailChimp, PayPal, QuickBooks, Square, etc.
ROI and Insights – Gain insights into customer feedback for every product and service using sentiment analysis and keyword analysis. Reporting available by location, region, or division.
About eKomi, The Feedback Company

Founded in 2008 by serial entrepreneur Michael Ambros, eKomi, The Feedback Company is a leading independent provider of transaction-based reviews & ratings and is a Google worldwide partner. With over 200+ employees headquartered internationally, eKomi has gathered & published over 13M reviews for customers. More than 14,000 companies leverage eKomi