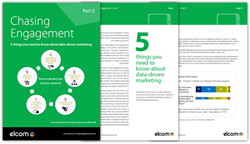 SYDNEY, Australia (PRWEB) April 28, 2015
The rise of data and its effect on innovation in the digital marketing sector is accelerating with 2015 set to be the year that big data reshapes the industry.
Marketers are increasingly aware that a data-driven marketing strategy is now necessary to retain competitiveness and currency. In a new whitepaper from Elcom (http://www.elcomcms.com), Chasing Engagement: Data Driven Marketing, leading Australian experts warn that the industry needs to adapt swiftly and wisely to the power of utilising data and keep up with the pace of change from regulatory, technology and privacy angles.
Accurate audience data is critical to finding and engaging with people, when, how and where they want. For marketers, this means being able to leverage all the relevant data your company has access to in order to achieve the marketing epitome that is personalization, says Elcom Marketing Director, Annette Dockerty.
Consumers have already established a baseline of informed knowledge on privacy issues and are increasingly savvy about what, where and how their personal data is being used. According to a recent ADMA study security and the use of data by third parties are the key data concerns from consumers. The study into consumer attitudes around privacy found 3 in 4 consumers (77%) were unlikely to share their details if they are pressed for too much information.
There is a demand from consumers to truly understand what information of theirs is being collected and what its being collected for. They want greater transparency from companies. Businesses that are transparent in their information-handling practices will find more favour with consumers, advises Jodie Sangster, CEO, ADMA.
The Elcom white paper also outlines key tactics for marketers to develop or update their data strategy and how to adequately resource it. Datalicious CEO and founder, Christian Bartens says, the most dangerous thing I have seen that ruins marketing efforts is product silos, where knowledge isnt exchanged and metrics arent standardized. Most companies dont know who their most valuable customers are because there is no integration of client data across the company and teams are working in silos.
Download Chasing Engagement: Data Driven Marketing':

http://www.elcomcms.com/resources/whitepapers-ebooks/chasing-engagement-part-2
About Elcom
Entrepreneur John Anstey founded Elcom with the vision of developing a modular Enterprise Web Content Management platform for Intranets, Websites, Portals, Online Learning, Social, and Mobile solutions. elcomCMS is used by medium and large enterprise organizations when the timeline, risk, and costs are critical. Elcom is a Microsoft Gold Partner with many successful implementations around the world including: Hyundai, Kia, Target (Australia), Austrade, Lego Club, Volkswagen, Orica, British Paints, Emerson Power, Kaiser Permanente, Louisville Water Company, to name a few. elcomCMS is the strategic choice of digital leaders delivering measurable value to internal and external stakeholders, adding power to the sales & marketing function and bringing efficient management of information to operational functions.
Further information can be found at http://www.elcomCMS.com