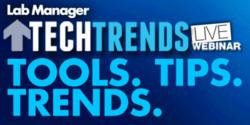 Midland, ON (PRWEB) January 22, 2013
Lab Manager Magazines Tech Trends webinar series returns for 2013 and starts this years series off with a discussion on ELN and LIMS.
ELNs are literal replacements for the bound paper notebooks traditionally used by lab personnel. They hold specific experimental data that reflect minute-by-minute, documentable lab activities. ELNs can prove to be very useful to help design experiments, document and archive all data, share data with colleagues anywhere in the world, meet regulatory audits, and provide a legal basis for generating intellectual property.
The panel of experts will talk about the next-generation of ELNs and their dynamic features, serving various applications throughout the organization.
Experts from the following companies will be participating in this live webinar: