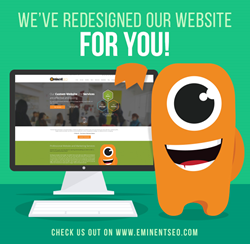 Mesa, AZ (PRWEB) September 05, 2014
Eminent SEO LLC is pleased to announce the launch of its new redesigned and fully responsive website http://www.eminentseo.com. The new website was launched to replace the existing site which had been live since 2010. The new site offers website readers all new content and resources, such as free tools and an extensive list of SEO and Marketing terminology.
Eminent SEO is an internet marketing agency in Mesa, Arizona. They have roughly 10-15 full time employees and dozens of strategic marketing partnerships across the United States. Their owners, Jenny Stradling and Chris Weatherall, founded the company in October of 2009. They specialize in website design, development, website copy, blogging, social media, organic SEO and PPC marketing.
The new website is intended to feature the innovative design styles the company is producing for clients, including updated graphics and a fully responsive design. The website was built to accommodate all computer and mobile devices, including smart phones and tablets. The design features their brand mascot, Max the Monster, who has been a recognizable symbol of their brand since 2010. Max has been updated to match the new, more modern design but he still encompasses his original quirky essence.
In addition to the new website design the site also features all new content and on-page SEO. Website visitors can expect to learn even more about the marketing agency, their services and their team as well as learn more about online marketing and search engine optimization through their blog, newsletter and newly added resource center. The new resource center focuses on educating clients through information, FAQs and tools.
Another new addition to the new website is the shop. Creatively dubbed Max Swag the new shopping area of the website features products, such as: T-shirts, bags, mugs, mouse pads and iPhone cases. Website users can custom design and purchase Max Swag through the Eminent SEO Zazzle Shop, which is linked to from the site. Eminent SEO plans to expand their Max Swag product line and include a number of fun products for fans and future giveaways.
Individuals and companies who are interested in learning more about the new Eminent SEO website design or the services the agency offers can call or use the contact form on the website to get in touch with the principles and their staff. Eminent SEO encourages contact and offers a number of ways for individuals to contact or engage with their agency from the website to a large number of social media platforms, such as Facebook, Twitter, Google+ and LinkedIn.
About Eminent SEO

Eminent SEO is a website services and marketing firm that specializes in creating beautiful websites and increasing the brand and organic visibility of the websites through a number of online marketing techniques. They offer their extensive experience and vast list of services to direct clients as well as resellers who are other companies and individuals looking to resell their services. To learn more contact them directly using the information below.