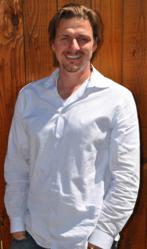 Napa, California (PRWEB) April 10, 2013
Enologix, Inc. advances Douglas McKesson, Jr. to General Manager as the company launches its winemaking software to help wine companies scale quality and volume in Napa Valley.
News Facts:

Enologix new software helps wine companies scale quality and volume, which is the largest problem facing California luxury wine. 95% of brands do not produce 3-year trailing average 90-point scores for Cabernet Sauvignon, Chardonnay or minor varieties at 1,000 cases.
McKesson will integrate vineyard, blend and bottle activities with software that distributes analytics to vineyard, winery and sales operations.
McKesson is responsible for day-to-day operations at the company, directing engineering, research, marketing and sales functions for the company.
McKesson combines his winemaking experience in Napa with his decade in Silicon Valley high-technology to create first wine quality software.
McKesson has influenced wine business infrastructure by publishing studies in industry publications regarding Wine Spectators 100-point score (http://www.winebusiness.com/wbm/?go=getArticleSignIn&dataId=88158).
McKesson has co-authored peer-reviewed scientific studies to question the validity of controversial academic tannin and color methods (http://www.aoac.org).
McKesson is a Sonoma native and holds a Bachelors degree in Chemistry from UC Santa Cruz and MBA from Arizona State University.
Supporting Quotes:
Enologix president, Leo McCloskey, says, Napa Valley needs to meet the challenge of producing larger batches of fine Cabernet Sauvignons. The benchmark are the Bordeaulais who produce larger batches of 90-plus-point wine. Dougs deep understanding of online