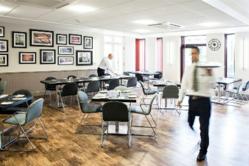 Lane End, Buckinghamshire (PRWEB) November 20, 2012
Enquiry levels at Lane End Conference Centre have risen by a fifth year on year supporting the meetings industrys positive forecasts for 2013.
Lane Ends enquiry levels for the four months ended October 2012 were 20 per cent higher than for the same period in 2011.
And they were 30 per cent higher than for the same four months in 2010 despite the last two years being difficult for Britains business community.
Increasing levels of business at the purpose-built Buckinghamshire residential conference centre echo the latest data from Meeting Professionals International (MPI).
The MPI a global organisation which represents conference centres and other meetings venues suggests that British venues can expect a welcome increase in enquiries next year.
MPIs Business Barometer study has forecast a rise in meetings for 2013: up 3.2 per cent in Europe, up 2.8 per cent in the US and up 3.3 per cent in Canada.
Budgets for meetings are also expected to rise by 0.7 per cent in Europe and by one per cent in the US and Canada.
Lane End Sales and Marketing Manager Heni Fourie said: It is encouraging to see an increase in demand.
However, competition remains high. We are therefore committed to ensuring that our service and our residential conference facilities remain at the very highest standard.
We are very committed to customer retention through delivering excellent service and we therefore proactively ask for feedback. We actively consider and implement comments and suggestions made by our clients, he added.
Lane End Conference Centre has three main sources of feedback: