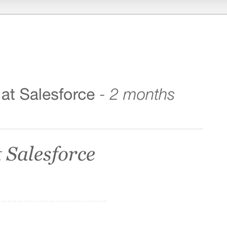 San Francisco, CA (PRWEB) January 14, 2015
Entelo, the Hiring Intelligence Platform, Launches Entelo Track, the Most Powerful Email Tool For Recruiters

Company announces record Q4 results:176% bookings growth quarter-over-quarter, 359% year-over-year.
Entelo today announces the launch of Entelo Track, the first email analytics and tracking tool built specifically for recruiters and hiring managers. Entelo Track allows recruiters to confidently reach out to top candidates while automatically tracking their outbound communications. Entelo Track alerts recruiters when candidates are interacting with their emails, allowing them to gauge interest, optimize subject lines and time outreach. This results in more efficient communication and a better candidate experience.
The launch of Entelo Track comes on the heels of a record-setting Q4. Entelo saw a 176% sequential increase in bookings from the third quarter of 2014 and 359% year-over-year bookings growth from the fourth quarter of 2013. Over 190 corporate customers including AT&T, Box, Facebook, Microsoft, Salesforce and UPS now use Entelo to identify and engage with top talent.
Historically, powerful email tools have been built with salespeople and marketers in mind, said Jon Bischke, CEO of Entelo. In todays fast-moving talent market, companies need to connect to passive candidates to find and hire the very best workers. Entelo Track allows recruiting organizations to be empowered in a way that was previously not available to them.
With over 45 million candidate profiles, Entelo helps connect data-hungry recruiters and the most qualified candidates. Recruiters can search for and rank candidates based on skill relevance, expertise, and availability. Entelos More Likely To Move algorithm allows recruiters to search for candidates who are statistically more likely to be looking for new opportunities. Research shows that candidates flagged as More Likely To Move are up to 7 times more likely to leave their current position in the next 120 days.
"Track really completes the circle for the Entelo product." said Alex Moore, COO of nodePrime, "Not only can I surface qualified candidates who are open to new opportunities, but now I can use Track's feedback to find the most appropriate ways to connect in ways that dont feel spammy."
For more information or to get a free demonstration of the Entelo platform, visit http://www.entelo.com.
About Entelo
Entelo is a new and better way to recruit. The Entelo platform leverages big data, predictive analytics and social signals to help recruiting organizations find, qualify and engage with in-demand talent. Entelos suite of products includes Search with the patent-pending More Likely To Move algorithm, Sonar, an intelligent candidate recommendation engine, the Entelo Button, a cross-platform browser extension and Track, the first email analytics and tracking tool built exclusively for recruiters. To learn how leading companies like Facebook, Salesforce and UPS are building their teams using Entelo, visit http://www.entelo.com.
# # # # #

Media Contact:

415-689-7774

media(at)entelo(dot)com