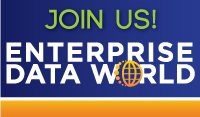 Los Angeles, CA (PRWEB) November 30, 2012
DATAVERSITY and DAMA International announced the agenda and opening of registration for their 2013 Enterprise Data World Conference (EDW). EDW is the business worlds most comprehensive vendor-neutral educational event about data and information management. The event will be held at the Sheraton Hotel and Marina in San Diego, CA April 28-May 2, 2013.
Over five days, EDW presents a diverse schedule of programming that addresses every level of proficiency, including keynotes, workshops, tutorials, case studies, and discussions. In addition, attendees can take advantage of two days of exhibits offering up-to-date solutions to the pressing data challenges from over 30 of the premier companies in the field.
EDW will have something for everyone, but the major themes for the conference this year are Big Data, Data Governance, New Database Technologies and Agile Data Management, Tony Shaw, CEO & Founder of DATAVERSITY said. The educational program for Enterprise Data World is packed with case studies from these organizations willing to share their methods for success.
Just a sample of the confirmed practitioners who will speak are: