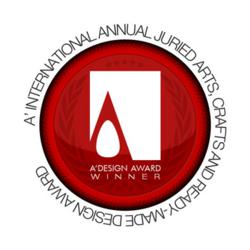 Como, Italy (PRWEB) January 10, 2013
The A' Arts, Crafts and Ready-Made Design Competition is a freestyle annual, international juried arts & design competition open to submission of work of arts, craft works, ready-made designs, installations and functional sculptures by professional and young artists, craftsman and designers worldwide.
The A' Design Awards features a highly qualified jury panel composed of representatives from the leading design businesses, magazines and academics in addition to focus group members who represent the preferences of the public. Entries to the competition are blind judged to eliminate any biases.
The A' Design Awards winners receive the widest publicity in the design awards field thanks to the extensive visibility and PR packages provided to awarded participants. Designers, artists and architects who demonstrate an excellent level of creativity in the competition, receive ample coverage through a network of design media, online publications and through press releases and communications packages provided by specialized services.
Submission Process

Nominations are accepted online via the A' Design Awards platform at http://www.adesignaward.com . Each participant is expected to upload up to five images of the art works among with a brief description of the submitted designs. Results of the competition will be announced on 15th of April, and the deadline is on 28th of February 2013. Further information regarding the award could be found at: http://www.artcraftaward.com
About A' Design Awards

The A' Design Awards is the comprehensive annual awards organization celebrating the best of design, arts and architecture worldwide. In a world where there are millions of products and designs launch each year, the award was born out of the desire to underline the best designs and creative ideas. The award-winning designs are highlighted to the international public via the A' Design Award Gala-Night and Exhibition in Italy and they are communicated to all relevant press across the world through award publications, press releases and PR campaigns. Learn more at: http://www.whatisadesignaward.com