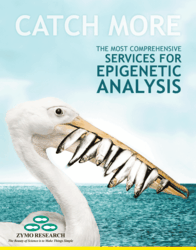 Irvine, CA (PRWEB) March 07, 2013
Zymo Research Corporation, a privately held company located in Irvine, California, has recently expanded its range of tools and services for scientists working in one of the hottest fields of science today Epigenetics. Zymo Research now offers the most comprehensive suite of services for epigenetic analysis, including genome-wide platforms for profiling DNA methylation and hydroxymethylation, ChIP-Seq, nucleosome mapping, RNA-Seq, and more. These services are intended to assist academic and industry scientists investigate the role epigenetics plays in a variety of applications one of the largest being healthcare. Epigenetics research has the potential to completely revolutionize modern medicine through the advancement of personalized therapies, cancer treatment, stem cell research, and drug development.
As one of the Top 10 Scientific Discoveries of 2009, according to TIME magazine, efforts to decode the epigenome are notably one of the most exciting and rapidly expanding areas in biology. While it was previously believed that the primary DNA sequence contained all of the information required for heredity, scientists now agree that genetics alone can never fully explain why we develop as we do. Now, epigenetics can help provide answers to questions such as why identical twins that share the same DNA sequence can end up developing differently and why some of us develop cancers and various other diseases, while others do not. Furthermore, the study of this field may answer the age-old question of nature versus nurture and how environmental factors such as nutrition, stress, age, and illness can cause heritable traits without changing the underlying DNA sequence.
According to Dr. Marc Van Eden, V.P. of Business Development at Zymo Research, Making genome-wide epigenetic analyses available to all researchers will mark the beginning of a new era in epi-biomarker discovery and validation that will aid in the diagnostics and prognostics of human diseases. Epigenetics research will also facilitate advancements in personalized medicine and companion diagnostics to optimize the efficiency of individualized drug treatment. We may begin to ask how things like the environment and our diet affect who we are and who we will likely become. With genome-wide and targeted epigenetic sequencing services, companies like Zymo Research make profiling the epigenome of patients a reality. Such advancements will become crucial in furthering our understanding of science and medicine and should have a significant impact on how we diagnose and treat human diseases in the future.
For more information or to inquire about the epigenetic services, please contact Zymo Research at:
services(at)zymoresearch(dot)com

Tel: (949) 679-1190

Toll free: (888) 882-9682

http://www.zymoresearch.com/services
Zymo Research Corporation is a privately held biotechnology company located in Irvine, California that provides the highest quality epigenetics products and services, in addition to DNA and RNA purification products. The philosophy of the company is to provide the most innovative, quality products, while ensuring they are both simple and reliable to use.