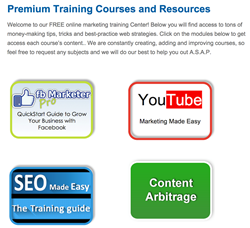 Orem, UT (PRWEB) November 26, 2014
Escape The Matrix LLC, a nine-year-old full-service online marketing company, announced today it will make what were previously private training courses available for free to the public.
"As our business has grown, we have decided to not charge for training anymore, but to make it free and readily available so it's easier to train our staff and customers on SEO, social media marketing, content marketing and other related topics," says Sherwin. "In addition, there's a lot of old, or just plain wrong online marketing training in the public domain, so we want to make sure that we provide easily accessible, accurate training to help our staff, our customers, and prospects," he adds.
The training materials, formerly called "The Vault," are available now, without an e-mail opt-in, at http://escapethematrix.net/free-training/ Current courses cover topics such as:
-Facebook Marketing

-Youtube marketing

-Social media marketing

-Twitter
And more. New content will be added as necessary as online marketing evolves and changes at a fast pace.
Visitors can also ask questions or leave comments on each page of courses, questions will be monitored Mon-Friday 9-5 PM MDT and answered within 24 hours of posting.