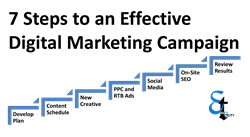 Miami, Florida (PRWEB) December 30, 2014
With so many choices for advertising and social media, plus SEO, digital marketing campaigns are often a fragmented patch work of individual elements running completely separate and sporadically. It's easy to set up Google PPC, Facebook ads and a Facebook Page, maybe Twitter, Pinterest and a few other campaigns as you go. Each of these can be turned on or paused, go from very active to dormant, changing targeting and focus along the way. The result is a YoYo marketing program which is how how many digital marketing campaigns run.
While all of these tools and media are separate, an effective digital marketing campaign ties all of these individual elements together into an overall plan with specific objectives. Just like traditional marketing coordinates print advertising, broadcast media (radio and TV,) and direct mail into an organized campaign with common objectives and messaging, digital marketing must do the same.
Here's 7 simple steps for creating an effective digital marketing campaign, with a detailed explanation of each step below:

1. Develop Your 2015 Marketing Plan

2. Create a Content and Advertising Calendar

3. Review Past Ads and Develop New Creative

4. Implement Paid Advertising Campaign

5. Implement Social Media Campaign

6. On-Site SEO

7. Review Results Monthly
#1 Developing Your Digital Marketing Campaign Plan
Developing a plan is an absolute must for an effective and successful marketing campaign. Comprehensive plans are great, but if this is overwhelming, consider putting a basic plan or outline together. If it lays out the objectives, budget and actions, that is sufficient.
The basic steps and parts of your marketing plan should include:


Review Results: It is important to have a clear understanding of what's working, what's not working, and develop a clear understanding of what is going on.
Google Analytics traffic vs past periods.
Google Analytics Goal conversions
Google Analytics Engagement metrics: bounce rate, average time on site, pages per visit, etc.
Actual product or services sales vs goal.
Audience: Review Google Analytics data and Facebook Insights for some excellent demographic data.
Audience Targeting: define the target audience as specifically as possible.
Objective: reexamine objectives and make sure they are clear and measurable.
Budget: set the annual budget, then a monthly budget allocating specific amounts for each media including allocating funding or time for creating content, managing social media, press releases, etc.
Metrics: determine how progress will be measured.
#2 Creating a Content Calendar
A Content Calendar organizes the topics as well as setting weekly and monthly goals to track. To simplify the task of creating the calendar, start with a general month by month outline and then create specific content plans for the next few weeks adding and updating monthly.
#3 Review Current Creative and Develop New Material
The creative material such as Google PPC ads, banner/display ads, Facebook ads, and content including blogs, PR and web pages is a very important piece of the campaign. Images, titles and the lead in sentence in ads can increase the CTR (Click Through Rate) by as much as 3 to 5 times. Review the performance of your current ads; if the CTR is 0.5% or less, these ads are underperforming. Good ads with the correct targeting should have a CTR of around 1%. Extremely effective ads can achieve CTRs of 2% and higher.
#4 Implement Paid Advertising, Google PPC, RTB, & Retargeting
Paid advertising is an excellent medium to drive highly targeted traffic. Google PPC is well known and pretty much the first thing to come to mind with respect to Internet advertising, but there are more alternatives today. Google search advertising will be a key part of a paid digital ad campaign, but the campaign should also include RTB (Real Time Bidding) or banner/display ads, and definitely retargeting ads. Retargeting is highly effective in increasing conversions by bringing recent visitors back to the website.
#5 Implement a Social Media Campaign
Social media is great for brand building and increasing your brand recognition, and it can also drive traffic and sales. While outright hard "selling" is not effective, soft selling via informative and interesting posts is very effective. An effective and active social media campaign can represent 10% to 25% of website traffic.
#6 On-Site SEO
The Google Panda, Penguin, and most importantly Hummingbird updates have made website content more important than ever. Content has always been important, but these changes have placed a priority on content quality and depth as well as website structure. Simply put, websites with very little content including low page counts, short pages (one or two paragraph pages), and poor website design and structure will not be competitive in search rankings.
#7 Review Results Monthly
Reviewing results monthly is critical to the success of the campaign. It is important to review the campaign at least every month and not let it run on autopilot. Things can change quickly, and if they do, it is vital adjust the campaign accordingly.
As the campaign progresses it may be necessary to reallocate the budget, change some creative, or perhaps adjust the paid advertising. Likewise, if there are new developments in the product or service the campaign should be updated to address this.