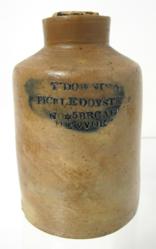 Eastern Shore, DE (PRWEB) April 30, 2013
Estate Auctions Inc. is pleased to announce the upcoming auction of an extremely rare piece of stoneware. The oyster jar or crock features a blue impressed mark on the top that reads T DOWNING PICKLED OYSTERS NO (star) 5 BROAD ST NEW YORK. The story behind this remarkable piece is quite interesting and can be seen on YouTube.
"There are some items that come through our doors and we instantly say WOW! When we saw this crock we knew it was special but had no idea we would uncover this inspiring story. After the research was complete I was amazed at the power of the human spirit and the determination of one man to do what was right no matter the cost", says Norb Novocin, owner of Estate Auctions, Inc.
The G in Downing is upside down and there is a six sided star between No and 5. The T Downing stands for Thomas Downing a free black man originally from Chincoteague, Virginia. Mr. Downing learned the oyster business in Virginia then moved to New York in the early 1800's and opened the premier Oyster House in all of New York. Very rare for a black man in the 1800's.
You can read more about this on eBay.
To learn more about the Novocins and Estate Auctions, Inc. visit them on eBay, user ID EstateAuctionsInc or follow them on Twitter @KnowsEbay. For consigning information please call 1-800-573-3508. You can find their new book Getting Sold On Ebay, The Treasure Hunters Guide To Making Money on eBay or Amazon.com.
You can find them on Facebook also.